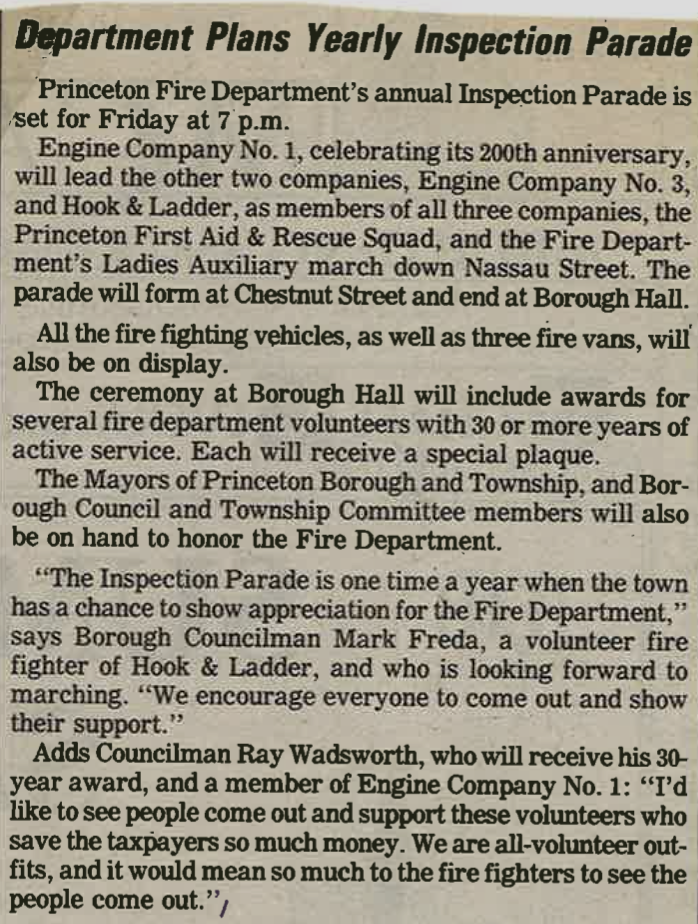 June 28, 1994 (~estimated)
Princeton Fire Department's annual Inspection Parade is set for Friday at 7 p.m.
Engine Company No. 1, celebrating its 200th anniversary, will lead the other two companies, Engine Company No. 3, and Hook & Ladder, as members of all three companies, the Princeton First Aid & Rescue Squad, and the Fire Department's Ladies Auxiliary march down Nassau Street. The parade will form at Chestnut Street and end at Borough Hall.
All the fire fighting vehicles, as well as three fire vans, will also be on display.
The ceremony at Borough Hall will include awards for several fire department volunteers with 30 or more years of active service. Each will receive a special plaque.
The Mayors of Princeton Borough and Township. and Borough Council and Township Committee members will also be on hand to honor the Fire Department.
"The Inspection Parade is one time a year when the town has a chance to show appreciation for the Fire Department," says Borough Councilman Mark Freda, a volunteer fire fighter of Hook & Ladder, and who is looking forward to marching. "We encourage everyone to come out and show their support."
Adds Councilman Ray Wadsworth, who will receive his 30-year award, and a member of Engine Company No. 1: "I'd like to see people come out and support these volunteers who save the taxpayers so much money. We are all-volunteer out-fits, and it would mean so much to the fire fighters to see the people come out."