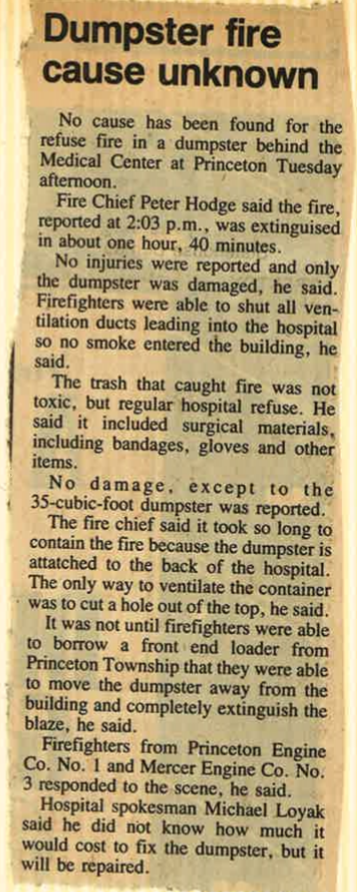 28 February, 1986
Dumpster fire cause unknown
No cause has been found for the refuse fire in a dumpster behind the Medical Center at Princeton Tuesday afternoon.
Fire Chief Peter Hodge said the fire, reported at 2:03 p.m., was extinguished in about one hour, 40 minutes.
No injuries were reported and only the dumpster was damaged, he said. Firefighters were able to shut all ventilation ducts leading into the hospital so no smoke entered the building, he said.
The trash that caught fire was not toxic but regular hospital refuse. He said it included surgical materials, including bandages, gloves and other items.
No damage, except to the 35-cubic-foot dumpster, was reported.
The fire chief said it took so long to contain the fire because the dumpster is attached to the back of the hospital.
The only way to ventilate the container was to cut a hole out of the top, he said.
It was not until firefighters were able to borrow a front end loader from Princeton Township that they were able to move the dumpster away from the building and completely extinguish the blaze, he said.
Firefighters from Princeton Engine Co. No. 1 and Mercer Engine Co. No. 3 responded to the scene, he said. Hospital spokesman Michael Loyal said he did not know how much it would cost to fix the dumpster, but it will be repaired.