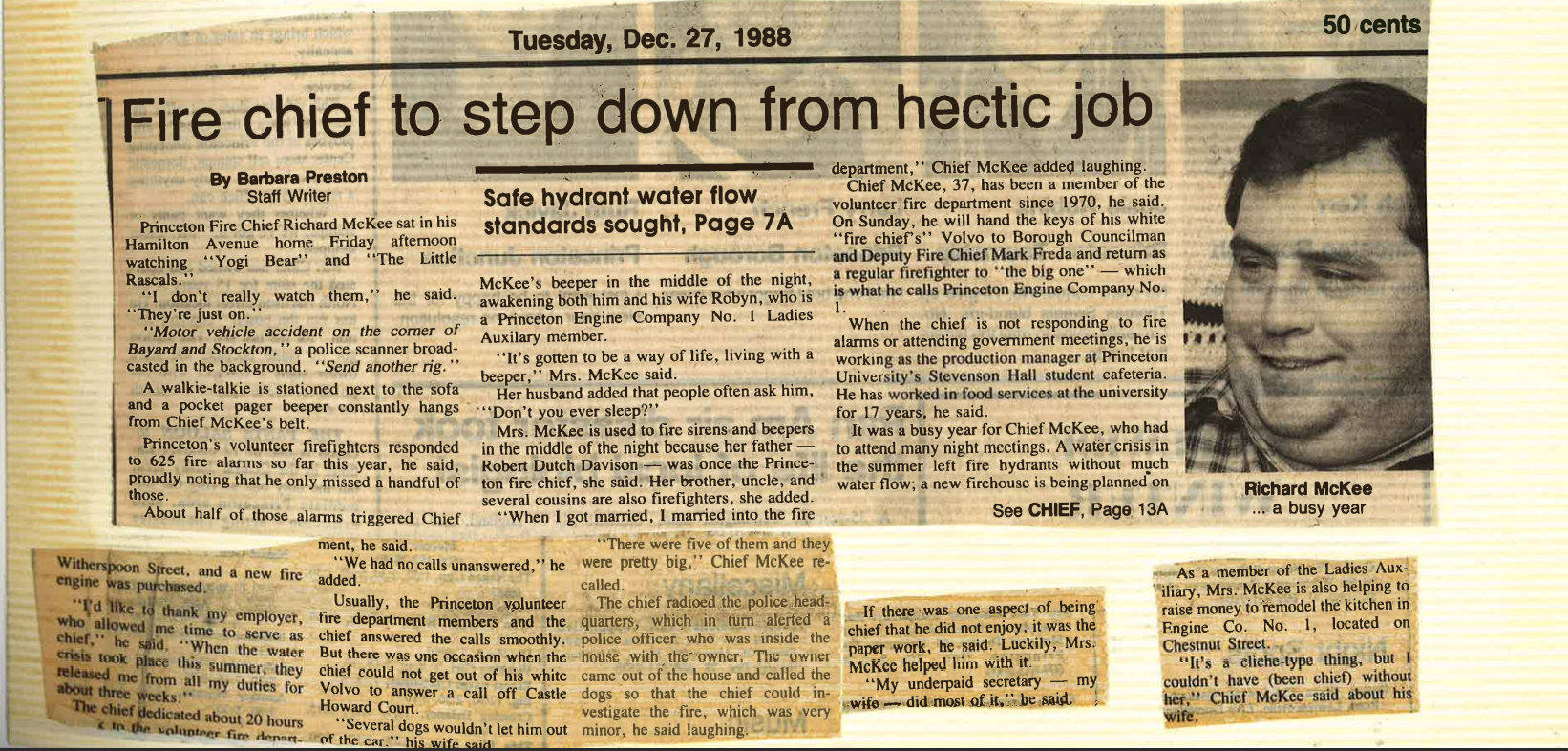 50 cents
27 December, 1988
Fire chief to step down from hectic job
By Barbara Preston
Staff Writer
Princeton Fire Chief Richard McKee sat in his Hamilton Avenue home Friday afternoon watching "Yogi Bear" and "The Little Rascals."
"I don't really watch them," he said. "They're just on."
"Motor vehicle accident on the corner of Bayard and Stockton," a police scanner broad-casted in the background. "Send another rig."
A walkie-talkie is stationed next to the sofa and a pocket pager beeper constantly hangs from Chief McKee's belt.
Princeton's volunteer firefighters responded to 625 fire alarms so far this year, he said, proudly noting that he only missed a handful of those.
About half of those alarms triggered Chief McKee's beeper in the middle of the night, awakening both him and his wife Robyn, who is a Princeton Engine Company No. I Ladies Auxiliary member.
"It's gotten to be a way of life, living with a beeper," Mrs. McKee said.
Her husband added that people often ask him, "Don't you ever sleep?"
Mrs. McKee is used to fire sirens and beepers in the middle of the night because her father —Robert Dutch Davison — was once the Princeton fire chief, she said. Her brother, uncle, and ' several cousins are also firefighters, she added.
"When I got married, I married into the fire department," Chief McKee added laughing.
Chief McKee, 37, has been a member of the volunteer fire department since 1970, he said. On Sunday, he will hand the keys of his white "fire chiefs" Volvo to Borough Councilman and Deputy Fire Chief Mark Freda and return as a regular firefighter to "the big one" — which is what he calls Princeton Engine Company No. 1.
When the chief is not responding to fire alarms or attending government meetings, he is working as the production manager at Princeton University's Stevenson Hall student cafeteria. He has worked in food services at the university for 17 years, he said.
It was a busy year for Chief McKee, who had to attend many night meetings. A water crisis in the summer left fire hydrants without much water flow; a new firehouse is being planned on Witherspoon Street, and a new fire engine was purchased.
"I'd like to thank my employer, who allowed me time to serve as chief," he said. "When the water crisis took place this summer, they released me from all my duties for about three weeks."
The chief dedicated about 20 hours […] to the volunteer fire department, he said.
"We had no calls unanswered," he added.
Usually, the Princeton volunteer fire department members and the chief answered the calls smoothly. But there was one occasion when the chief could not get out of his white Volvo to answer a call off Castle Howard Court.
"Several dogs wouldn't let him out of the car." his wife said.
"There were five of them and they were pretty big," Chief McKee recalled.
The chief radioed the police headquarters, which in turn alerted a police officer who was inside the house with the owner. The owner came out of the house and called the dogs so that the chief could investigate the fire, which was very minor, he said laughing.
If there was one aspect of being chief that he did not enjoy, it was the paper work, he said. Luckily, Mrs. McKee helped him with it.
"My underpaid secretary  — my wife — did most of it." he said.
As a member of the Ladies Auxiliary, Mrs. McKee is also helping to raise money to remodel the kitchen in Engine Co. No. 1, located on Chestnut Street.
"It's a cliche-type thing, but I couldn't have (been chief) without her," Chief McKee said about his wife.