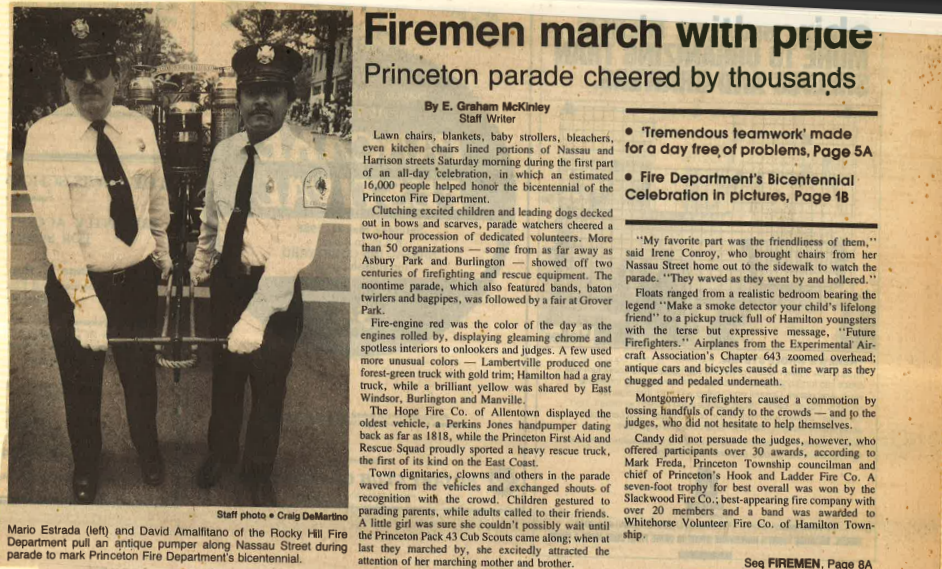 Firemen march with pride
10 May, 1988
Lawn chairs, blankets, baby strollers, bleachers, even kitchen chairs lined portions of Nassau and Harrison streets Saturday morning during the first part of an all-day 'celebration, in which an estimated a 16,000 people helped honoh the bicentennial of the Princeton Fire Department.
Clutching excited children and leading dogs decked out in bows and scarves, parade watchers cheered a two hour procession of dedicated volunteers. More than 50 organizations — some from as far away as Asbury Park and Burlington — showed off two i centuries of firefighting and rescue equipment. The i ji; noontime parade, which also featured bands, baton twirlers and bagpipes, was followed by a fair at Grover Park.
Fire-engine red was the color of the day as the engines rolled by, displaying gleaming chrome and 1 spotless interiors to onlookers and judges. A few used mom unusual colors — Lambertville produced one forest-green truck with gold trim; Hamilton had a gray truck, while a brilliant yellow was shared by East Windsor, Burlington and Manville.
The Hope Fire Co. of Allentown displayed the oldest vehicle, a Perkins Jones handpumper dating back as far as 1818, while the Princeton First Aid and Rescue Squad proudly sported a heavy rescue truck, the first of its kind on the East Coast.
Town dignitaries, clowns and others in the parade waved from the vehicles and exchanged shouts of recognition with the crowd. Children gestured to parading parents, while adults called to their friends.
A little girl was sure she couldn't possibly wait until ire the Princeton Pack 43 Cub Scouts came along; when at ng last they marched by, she excitedly attracted the attention of her marching mother and brother.
"My favorite part was the friendliness of them," said Irene Conroy, who brought chairs from her Nassau Street home out to the sidewalk to watch the parade. "They waved as they went by and hollered."
Floats ranged from a realistic bedroom bearing the legend " Make a smoke detector your child's lifelong friend" to a pickup truck full of Hamilton youngsters with the terse but expressive messages, "Future Firefighters." Airplanes from the Experimental Aircraft Association's Chapter 643 zoomed overhead; antique cars and bicycles caused a time warp as they chugged and pedaled underneath.
Montgomery firefighters caused a commotion by tossing handfuls of candy to the crowds — and to the judges, who did not hesitate to help themselves.
Candy did not persuade the judges, however, who offered participants over 30 awards, according to Mark Freda, Princeton Township councilman and chief of Princeton's Hook and Ladder Fire Co. A seven-foot trophy for best overall was won by the Slackwood Fire Co.; best-appearing fire company with over 20 members and a band was awarded to Whitehorse Volunteer Fire Co. of Hamilton Township.
The earliest arriving award went to the Hamilton Fire Co.. which was ready and waiting at 2:30 a.m., Mr. Freda said. Others were not far behind, as over 100 .hicks gradually filled Princeton's roads, fields and parking lots. Registration at Jadwin Gymnasium was at 7:30 a , according to Julia Holofcencr. ex-ecutive producer of the bicentennial celebration Trucks and panders were strategically located around the township by the Princeton Hook and Ladder Fire Co. so that the parade could unreel without snags.
"The committee from the Prince-ton Hook and Ladder did a terrific job. was very well-chorcographcd," Ms. Flolo-foener, said. The event was a fine example of coordination among Princeton University. Princeton Township and Borough and the Iota! 'zebu. according to Ms Holofcener.
"The university was a tremendous help in coordinating this event." Ms. Holofcener said. "That's the most important thing in any community —teamwork And this event had it "
The only mishaps were a few stuck trucks on Princeton University fields These were quickly extracted. Meanwhile, the only fire in sight
came from the cart of a hot-pretzel vendor. Most companies had left some trucks behind to guard their communities. or asked neighboring squads to cover for them. Ms. Bolo-teener said.
An initially cloudy morning gave way to brilliant sunshine as the par-ade concluded with an afternoon fair next to  the Princeton Shopping Center. Revelers visited a variety of booths and watched comedians. entertainers and a balloon launch. As darkness fell. the. sky was lit by fireworks.
"Not only was it a celebration of the glorious past of our Princeton Fire Co.. but I hope that the younger viewer were inspired to want to grow up to be firefighter." said Princeton Borough Mayor Barbara Sigmund. who attended ihr event.
"I think that if the slightly older citizens of the community take a moment to reflect that our taxes will go up immeasurably if we lose our volunteer lire company, they will realize how vital it is to provide some affordable housing in Princeton." the mayor continued. "Traditionally, firefighters have been drawn from the strong middle class base of our community, which in Princeton is rapidly being eroded through gentrification."