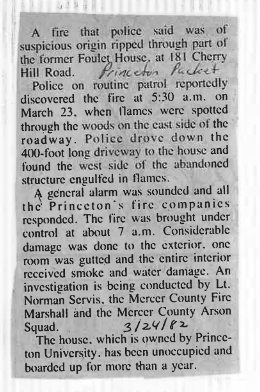 Princeton Packet
24 March 1982
A fire that police said was of suspicious origin ripped through part of the former Foulet House, at 181 Cherry Hill Road.
Police on routine patrol reportedly discovered the lire at 5:30 a.m. on March 23. when flames were spotted through the woods on the cast side of the roadway. Police drove down the 400-foot lone driveway to the house and found the west side of the abandoned structure engulfed in flames.
A general alarm was sounded and all the' Princeton's fire companies responded. The lire was brought under control at about 7 a.m. Considerable damage was done to the exterior, one room was gutted and the entire interior received smoke and water damage. An investigation is being conducted by Lt. Norman Servis, the Mercer County Fire Marshall and the Mercer County Arson Squad.
The house, which is owned by Princeton University, has been unoccupied and boarded up for more than a year.