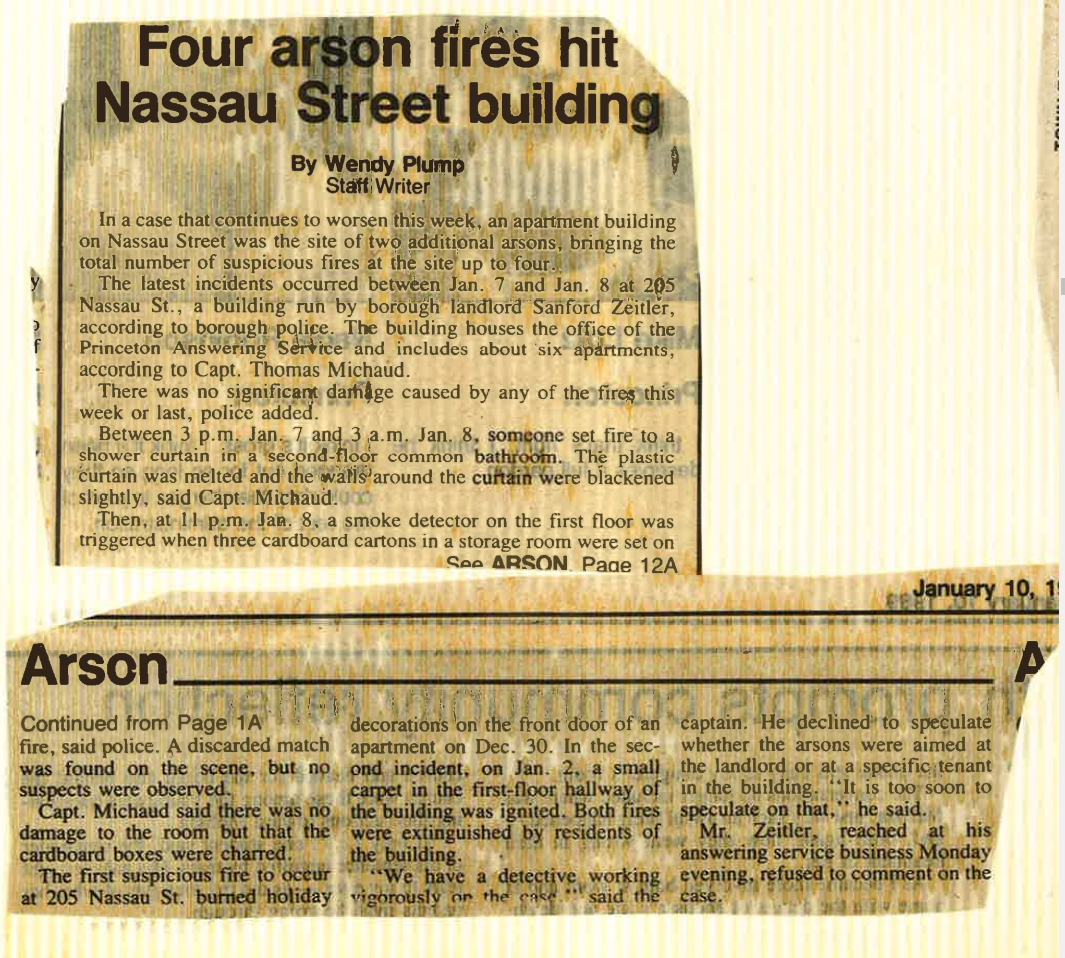 10 January, 1899
Four arson fires hit Nassau Street building
By Wendy Plump
Staff Writer
In a case that continues to worsen this week, an apartment building on Nassau Street was the site of two additional arsons, bringing the total number of suspicious fires at the site up to four.
The latest incidents occurred between Jan. 7 and Jan. 8 at 205 Nassau St., a building run by borough landlord Sanford Zeitler, according to borough police. The building houses the office of the Princeton Answering Service and includes about six apartments, according to Capt. Thomas Michaud.
There was no significant damage caused by any of the fires this week or last, police added.
Between 3 p.m. Jan. 7 and 3 a.m. Jan. 8, someone set fire to a shower curtain in a second-floor common bathroom. The plastic curtain was melted and the walls around the curtain were blackened slightly, said Capt. Michaud.
Then, at 11 p.m. Jan 8, a smoke detector on the first floor was triggered when three cardboard cartons in a storage room were set on fire, said police. A discarded match was found on the scene, but no suspects were observed.
Capt. Michaud said there was no damage to the room but that the cardboard boxes were charred.
The first suspicious fire to occur at 205 Nassau St. burned holiday decorations on the front door of an apartment on Dec. 30. In the second incident, on Jan. 2, a small carpet in the first-floor hallway of the building was ignited. Both fires were extinguished by residents of the building.
"We have a detective working vigorously on the case" said the captain. He declined to speculate whether the arsons were aimed at the landlord or at a specific tenant in the building. "It is too soon to speculate on that," he said.
Mr. Zeitler, reached at his answering service business Monday evening, refused to comment on the case.