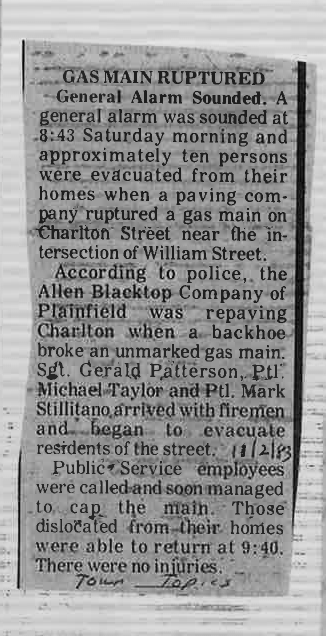 Town Topics
2 November 1983
GAS MAIN RUPTURED 
General Alarm Sounded. A general alarm was sounded at 8:43 Saturday morning and approximately ten persons were evacuated from their homes when a paving company ruptured a gas main on Charlton Street near the Intersection of William Street.
According to police, the Allen Blacktop Company of Plainfield was repaving Charlton when a backhoe broke an unmarked gas main. Sgt. Gerald Patterson, Ptl. Michael Taylor and Ptl. Mark Stillitano arrived with firemen and began to evacuate residents of the street.
Public Service employees were called and soon managed to cap the main. Those dislocated from their homes were able to return at 9:40. There were no injuries.