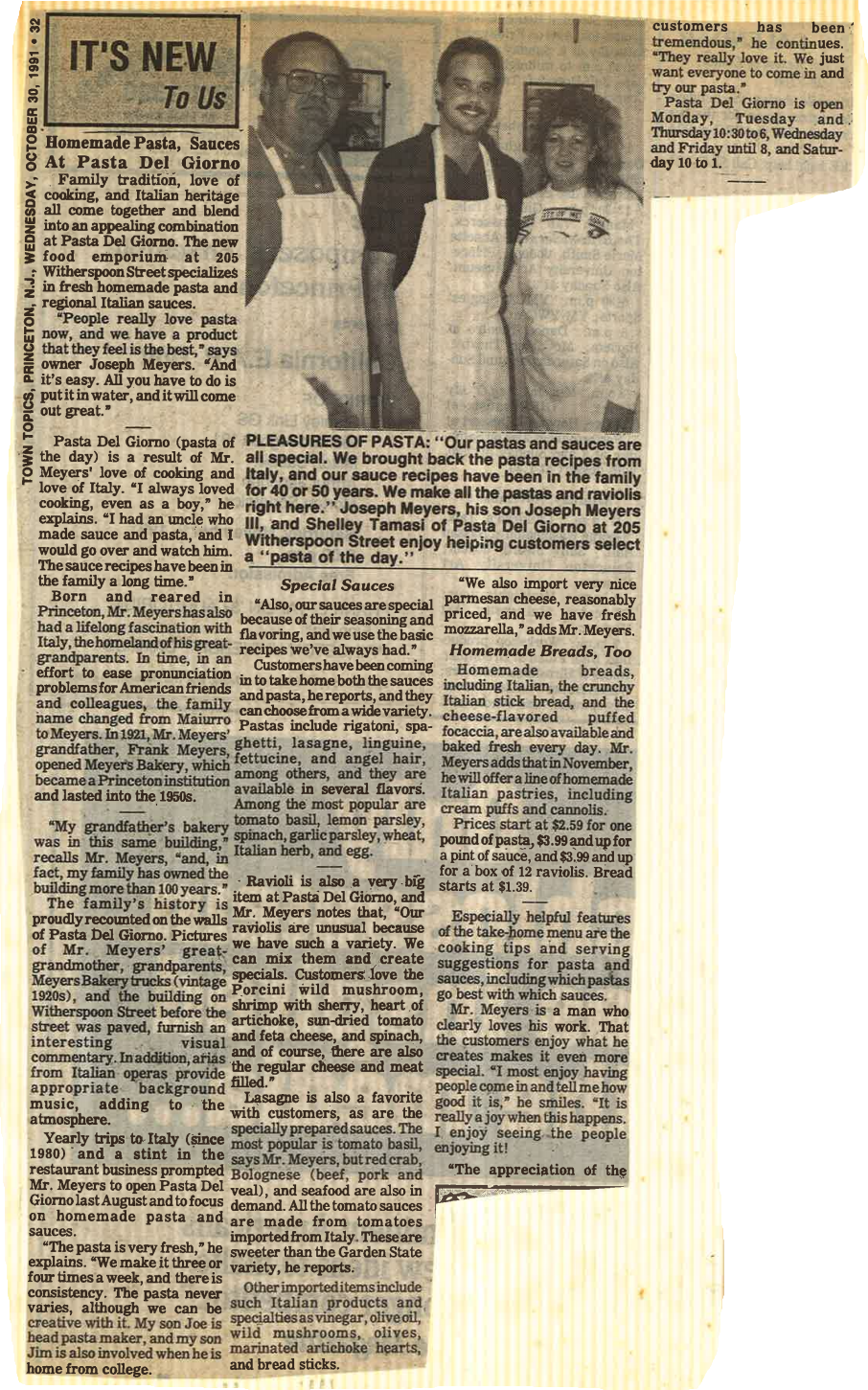 Town Topics
30 October, 1991
Homemade Pasta, Sauces At Pasta Del Giorno
Family tradition, love of cooking, and Italian heritage all come together and blend into an appealing combination at Pasta Del Giorno. The new food emporium at 205 Witherspoon Street specializes in fresh homemade pasta and regional Italian sauces.
"People really love pasta now, and we have a product that they feel is the best,' says owner Joseph Meyers. `And it's easy. All you have to do is put it in water, and it will come out great."
Pasta Del Giorno (pasta of the day) is a result of Mr. Meyers' love of cooking and love of Italy. "I always loved cooking, even as a boy," he explains. "I had an uncle who made sauce and pasta, and I would go over and watch him. The sauce recipes have been in the family a long time."
Born and reared in Princeton, Mr. Meyers has also had a lifelong fascination with Italy, the homeland of his great-grandparents. In time, in an effort to ease pronunciation problems for American friends and colleagues, the family name changed from Maiurro J to Meyers. In 1921, Mr. Meyers' grandfather, Frank Meyers, opened Meyers Bakery, which became a Princeton institution and lasted into the 1950s.
"My grandfather's bakery was in this same building," recalls Mr. Meyers, "and, in fact, my family has owned the building more than 100 years."
The family's history is proudly recounted on the walls of Pasta Del Giorno. Pictures of Mr. Meyers' great-grandmother, grandparents, Meyers Bakery trucks (vintage 1020s), and the building on Witherspoon Street before the street was paved, furnish an interesting visual commentary. In addition, arias from Italian operas provide appropriate background music, adding to the atmosphere.
Yearly trips to-Italy (since 1980) and a stint in the restaurant business prompted Mr. Meyers to open Pasta Del Giorno last August and to focus on homemade pasta and sauces. "The pasta is very fresh," he explains. "We make it three or four times a week, and there is consistency.
The pasta never varies, although we can be creative with it. My son Joe is head pasta maker, and my son Jim is also involved when he is home from college.
Special Sauces
"Also, our sauces are special because of their seasoning and flavoring, and we use the basic recipes we've always had."
Customers have been coming in to take home both the sauces and pasta, he reports, and they can choose from a wide variety. Pastas include rigatoni, spaghetti, lasagna, linguine, fettucine, and angel hair, among others, and they are available in several flavors. Among the most popular are tomato basil, lemon parsley, spinach, garlic parsley, wheat, Italian barb, and egg.
Ravioli is also a very big item at Pasta Del Giomo, and Mr. Meyers notes that, "Our raviolis are unusual because we have such a variety. We can mix them and create specials. Customers love the Porcini wild mushroom, shrimp with sherry, heart of artichoke, sun-dried tomato and feta cheese, and spinach, and of course, there are also the regular cheese and meat filled."
Lasagna is also a favorite with customers, as are the specially prepared sauces. The most popular is tomato basil, says Mr. Meyers, but red crab, Bolognese (beef, pork and veal), and seafood are also in demand. All the tomato sauces are made from tomatoes imported from Italy. These are sweeter than the Garden State variety, he reports.
Other imported items include such Italian products and specialties as vinegar, olive oil, wild mushrooms, olives, marinated artichoke hearts, and bread sticks.
"We also import very nice parmesan cheese, reasonably priced, and we have fresh mozzarella," adds Mr. Meyers.
Homemade Breads, Too
Homemade breads, including Italian, the crunchy Italian stick bread, and the cheese-flavored puffed focaccia , are also available and baked fresh every day. Mr. Meyers adds that in November,  he will offer a line of homemade Italian pastries, including cream puffs and cannolis.
Prices start at $2.59 for one pound of pasta, $3.99 and up for a pint of sauce, and $3.99 and up for a box of 12 raviolis. Bread starts at $1.39.
Especially helpful features of the take-borne menu are the cooking tips and serving suggestions for pasta and sauces, including which pastas go best with which sauces. Mr. Meyers is a man who clearly loves his work. That the customers enjoy what he creates makes it even more special. "I most enjoy having people come in and tell me how good it is," he smiles. "It is really a joy when this happens. I enjoy seeing the people enjoying it!
"The appreciation of the customers has been tremendous," he continues. "They really love it. We just want to everyone to come in and try our pasta."
Pasta Del Giorno is open Monday, Tuesday and Thursday 10:30 to 6, Wednesday and Friday until 8, and Saturday 10 to 1.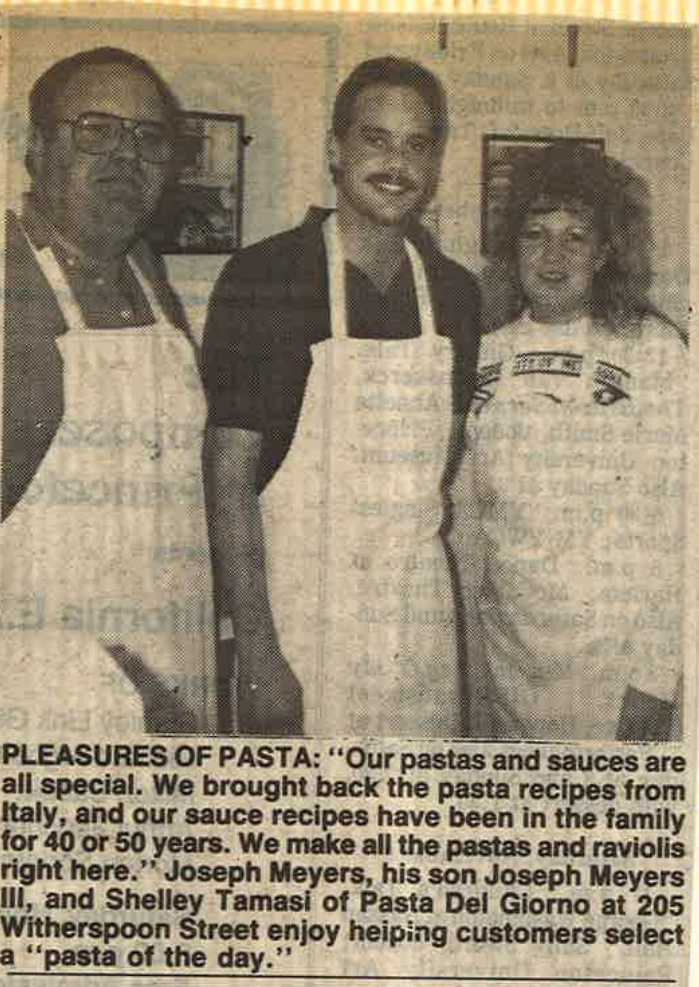 PLEASURES OF PASTA: "Our pastas and sauces are all special. We brought back the pasta recipes from Italy, and our sauces recipes have been in the family for 40 years or 50 years. We make all the pasta and raviolis right here." Joseph Meyers, his son Joseph Meyers III and Shelly Tamasi of Pasta Del Giorno at 205 Witherspoon Street enjoy helping customers select a "pasta of the day"