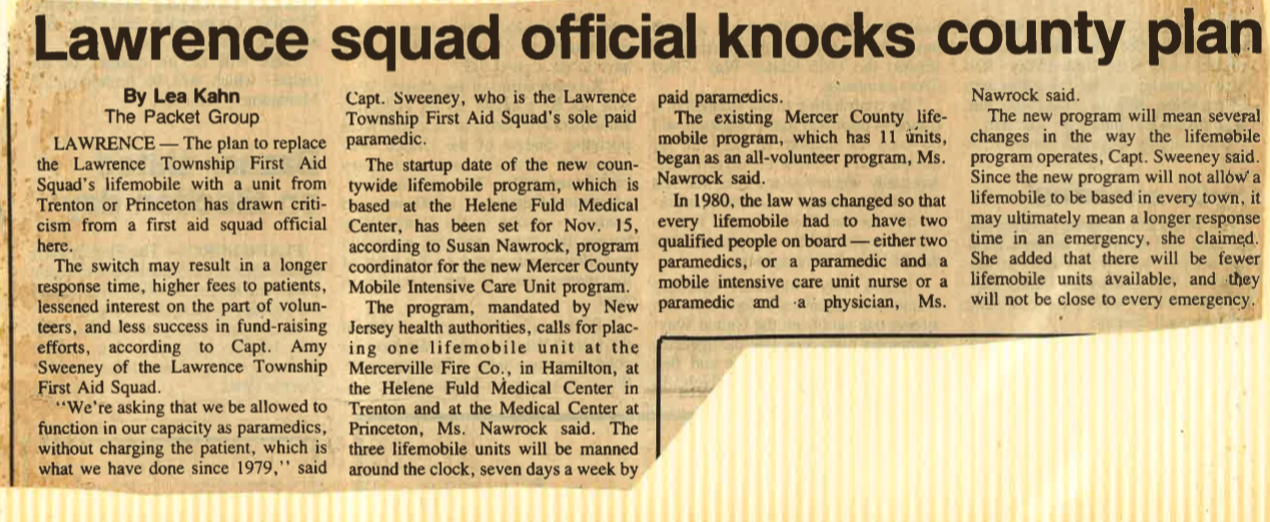 Princeton Packet
25 October, 1995
Lawrence squad official knocks county plan
By Lea Kahn
The Packet Group
LAWRENCE — The plan to replace the Lawrence Township First Aid Squad's lifemobile with a unit from Trenton or Princeton has drawn criticism from a first aid squad official here.
The switch may result in a longer response time, higher fees to patients, lessened interest on the part of volunteers, and less success in fund-raising efforts, according to Capt. Amy Sweeney of the Lawrence Township First Aid Squad.
"We're asking that we be allowed to function in our capacity as paramedics, without charging the patient, which is what we have done since 1979," said Capt. Sweeney, who is the Lawrence Township First Aid Squad's sole paid paramedic.
The startup date of the new countywide lifemobile program, which is based at the Helene Fuld Medical Center, has been set for Nov. 15, according to Susan Nawrock, program coordinator for the new Mercer County Mobile Intensive Care Unit program.
The program, mandated by New Jersey health authorities, calls for placing one lifemobile unit at the Mercerville Fire Co., in Hamilton, at the Helene Fuld Medical Center in Trenton and at the Medical Center at Princeton, Ms. Nawrock said. The three lifemobile units will be manned around the clock, seven days a week by paid paramedics.
The existing Mercer County life-mobile program, which has 11 units, began as an all-volunteer program, Ms. Nawrock said.
In 1980, the law was changed so that every lifemobile had to have two qualified people on board — either two paramedics, or a paramedic and a mobile intensive care unit nurse or a paramedic and a physician, Ms.
Nawrock said.
The new program will mean several changes in the way the lifemobile program operates, Capt. Sweeney said. Since the new program will not allow a lifemobile to be based in every town, it may ultimately mean a longer response time in an emergency, she claimed. She added that there will be fewer lifemobile units available, and they will not be close to every emergency.