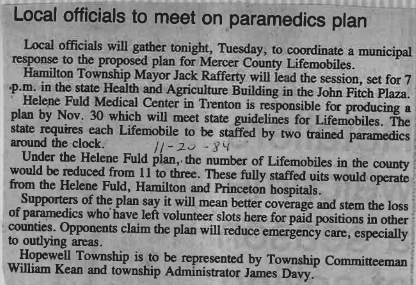 20 November, 1984
Local officials to meet on paramedics plan
Local officials will gather tonight, Tuesday, to coordinate a municipal response to the proposed plan for Mercer County Lifemobiles.
Hamilton Township Mayor Jack Rafferty will lead the session, set for 7 p.m. in the state Health and Agriculture Building in the John Fitch Plaza.
Helene Fuld Medical Center in Trenton is responsible for producing a plan by Nov. 30 which will meet state guidelines for Lifemobiles. The state requires each Lifemobile to be staffed by two trained paramedics around the clock.
Under the Helene Fuld plan, the number of Lifemobiles in the county would be reduced from 11 to three. These fully staffed units would operate from the Helene Fuld. Hamilton and Princeton hospitals.
Supporters of the plan say it will mean better coverage and stem the loss of paramedics who have left volunteer slots here for paid positions in other counties. Opponents claim the plan will reduce emergency care, especially to outlying areas.
Hopewell Township is to be represented by Township Committeeman William Kean and township Administrator James Davy.