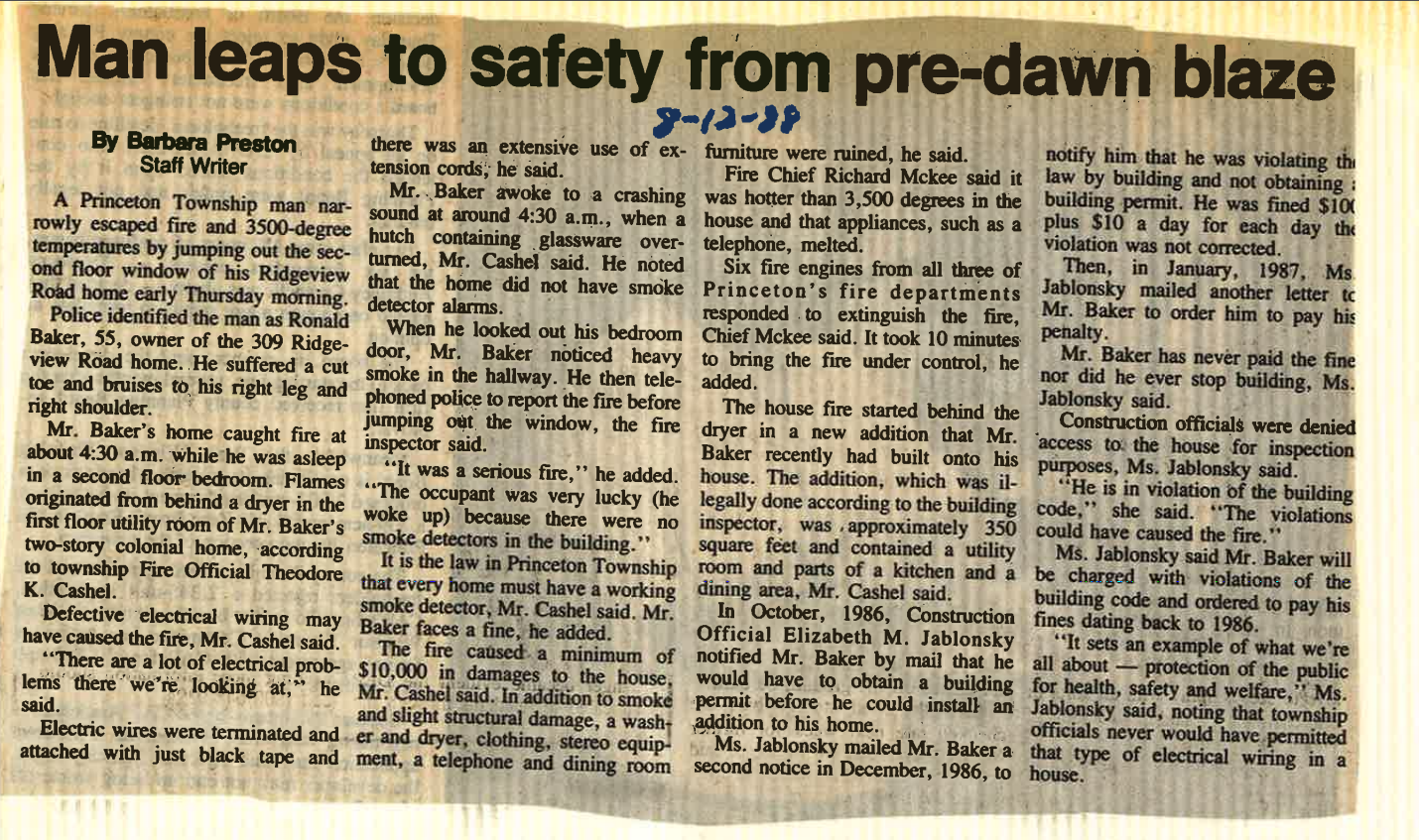 12 August, 1988
Man leaps to safety from pre-down blaze
By Barbara Preston
Staff Writer
A Princeton Township man narrowly escaped fire and 3500-degrx temperatures by jumping out the second floor window of his Ridgeview Road home early Thursday morning.
Police identified the man as Ronald Bala, 55, owner of the 309 Ridge-view Road home. He suffered a cut toe and bruises to, his right leg and tight shoulder.
Mr. Baker's home caught fire at about 4:30 am. while he was asleep in a second floor bedroom. Flames originated from behind a dryer in the first floor utility morn of Mr. Baker's two-story colonial home, according to township Fire Official Theodore K. Cashel.
Defective electrical wiring may have caused the fire, Mr. Cashel said.
"There are a lot of electrical problems there we're looking at," he said.
Electric wires were terminated and attached with just black tape and there was an extensive use of extension cords; he said.
Mr. Baker awoke to a crashing sound at around 4:30 a.m., when a hutch containing glassware overturned, Mr. Cashel said. He noted that the home did not have smoke detector alarms.
When he looked out his bedroom door, Mr. Baker noticed heavy smoke in the hallway. He then telephoned police to report the fire before jumping out the window, the fire inspector said.
"It was a serious fire," he added. "The occupant was very lucky (he woke up) because there were no smoke detectors in the building."
It is the law in Princeton Township that every home must have a working smoke detector, Mr. Cashel said Mr. Baker faces a fine, he added.
The fire caused a minimum of $10,000 in damages to the house. Mr. Cashel said. In addition to smoke and slight structural damage, a washer and dryer, clothing, stereo equipment, a telephone and dining room furniture were mined, he said.
Fire Chief Richard Mckee said it was hotter than 3,500 degrees in the house and that appliances, such as a telephone, melted.
Six fire engines from all three of Princeton's fire departments responded to extinguish the fire, Chief Mckee said. It took 10 minutes to bring the fire under control, he added.
The house fire started behind the dryer in a new addition that Mr. Baker recently had built onto his house. The addition, which was illegally done according to the building inspector, was approximately 350 square feet and contained a utility room and parts of a kitchen and a dining area, Mr. Cashel said.
In October, 1986, Construction Official Elizabeth M. Jablonsky notified Mr. Baker by mail that he would have to obtain a building permit before he could install an addition to his home. , Ms. Jablonsky mailed Mr. Baker a second notice in December, 1986, to notify him that he was violating the law by building and not obtaining building permit. He was fined 8101 plus $10 a day for each day that violation was not corrected.
Then in January, 1987, Ms Jablonsky mailed another letter It Mr. Baker to order him to pay hit penalty.
Mr. Baker has never paid the fine nor did he over stop building, Ms. Jablonsky said.
Construction officials wane denied access to the house for inspection purposes, Ms. Jablonsky said.
"He is in violation of the building code," she said. 'The violations could have caused the fire."
Ms. Jablonsky said Mr. Baker will be charged with violations of the building code and ordered to pay his fines dating back to 1986.
"It sets an example of what we're all about — protection of the public for health, safety and welfare," Ms. Jablonsky said, noting that township officials never would have permitted that type of electrical wiring in a house.