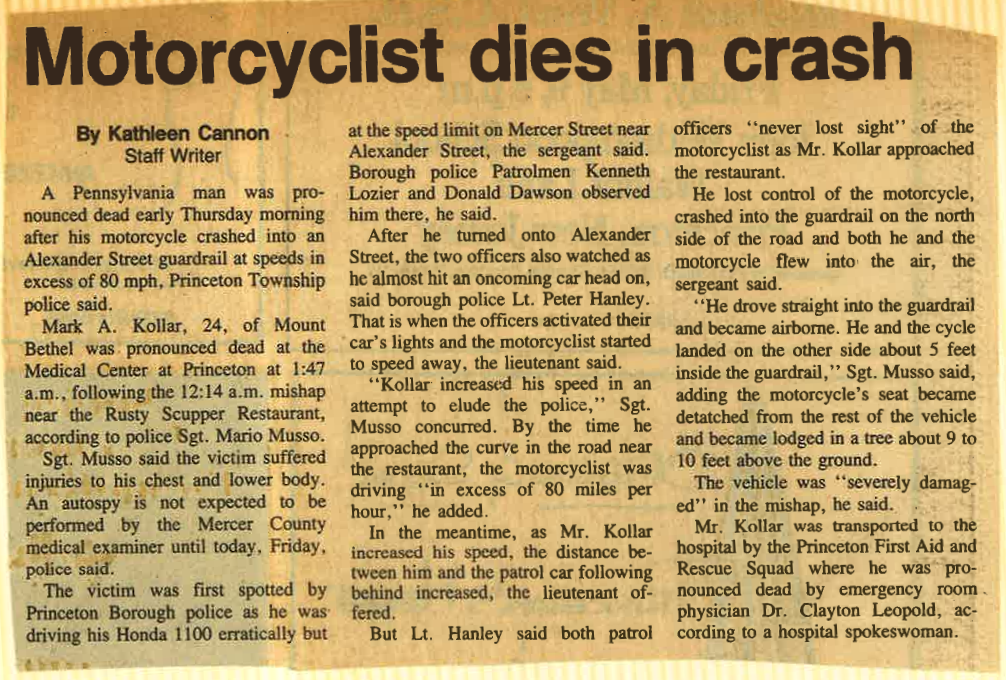 3 May, 1986 (~estimated)
Motorcyclist dies in crash 
By Kathleen Cannon
Staff Writer 

A Pennsylvania man was pronounced dead early Thursday morning after his motorcycle crashed into an Alexander Street guardrail at speeds in excess of 80 mph, Princeton Township police said.
Mark A. Kollar, 24, of Mount Bethel was pronounced dead at the Medical Center at Princeton at 1:47 a.m. following the 12:14 a.m. mishap near the Rusty Scupper Restaurant, according to police Sgt. Mario Musso. 
Sgt. Musso said the victim suffered injuries to his chest and lower body. An autopsy is not expected to be performed by the Mercer County medical examiner until today, Friday, police said.
The victim was first spotted by Princeton Borough police as he was driving his Honda 1100 erratically but at the speed limit on Mercer Street near Alexander Street, the sergeant said. Borough police Patrolmen Kenneth Lozier and Donald Dawson observed him there, he said. 
After he turned onto Alexander Street, the two officers also watched as he almost hit an oncoming car head-on, said borough police Lt. Peter Hanley. That is when the officers activated their car's lights and the motorcyclist started to speed away, the lieutenant said. 
"Kollar increased his speed in an attempt to elude the police," Sgt. Musso concurred. By the time he approached the curve in the road near the restaurant, the motorcyclist was driving "in excess of 80 miles per hour," he added.
In the meantime, as Mr. Kollar increased his speed, the distance between him and the patrol car following behind increased, the lieutenant offered. 
But Lt. Hanley said both patrol officers "never lost sight" of the motorcyclist as Mr. Kollar approached the restaurant. 
He lost control of the motorcycle, crashed into the guardrail on the north side of the road and both he and the motorcycle flew into the air, the sergeant said.
"He drove straight into the guardrail and became airborne. He and the cycle landed on the other side about 5 feet inside the guardrail," Sgt. Musso said, adding the motorcycle's seat became detached from the rest of the vehicle and became lodged in a tree about 9 to 10 feet above the ground. 
The vehicle was "severely damaged" in the mishap, he said. 
Mr. Kollar was transported to the hospital by the Princeton First Aid and Rescue Squad where he was pronounced dead by emergency room physician Dr. Clayton Leopold, according to a hospital spokeswoman.