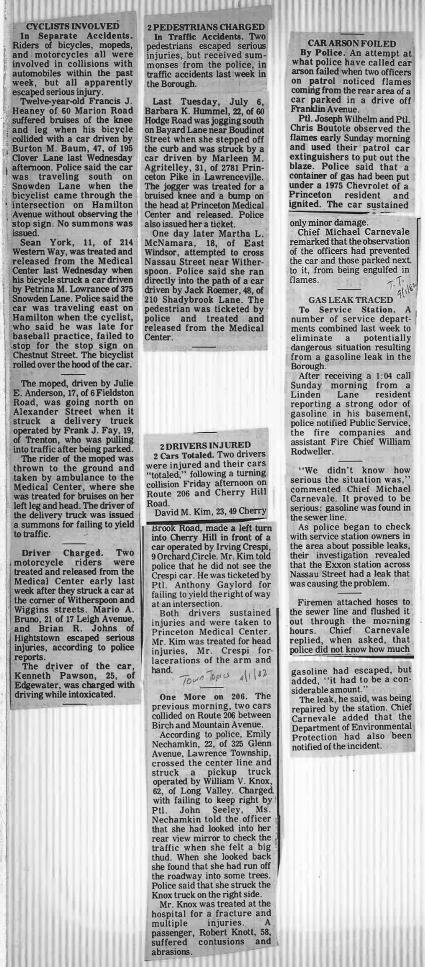 Town Topics
1 September 1982
---
Cyclists Involved
CYCLISTS INVOLVED In Separate Accidents. Riders of bicycles, mopeds, and motorcycles all were involved in collisions with automobiles within the past week, but all apparently escaped serious injury.
Twelve-year-old Francis J. Heaney of 60 Marion Road suffered bruises of the knee and leg when his bicycle collided with a car driven by Burton M. Baum, 47, of 195 Clover Lane last Wednesday afternoon. Police said the car was traveling south on Snowden Lane when the bicyclist came through the intersection on Hamilton Avenue without observing the stop sign. No summons was issued.
Sean York, 11, of 214 Western Way, was treated and released from the Medical Center last Wednesday when his bicycle struck a car driven by Petrina M. Lowrance of 375 Snowden Lane. Police said the car was traveling east on Hamilton when the cyclist, who said he was late for baseball practice, failed to stop for the stop sign on Chestnut Street. The bicyclist rolled over the hood of the car.
---
The moped, driven by Julie E. Anderson, 17, of 6 Fieldston Road, was going north on Alexander Street when it struck a delivery truck operated by Frank J. Fay, 19, of Trenton, who was pulling into traffic after being parked.
The rider of the moped was thrown to the ground and taken by ambulance to the Medical Center, where she was treated for bruises on her left leg and head. The driver of the delivery truck was issued a summons for failing to yield to traffic.
---
Driver Charged
Two motorcycle riders were treated and released from the Medical Center early last week after they struck a car at the corner of Witherspoon and Wiggins streets. Mario A. Bruno, 21 of 17 Leigh Avenue, and Brian R. Johns of Hightstown escaped serious injuries, according to police reports.
The driver of the car, Kenneth Pawson, 25, of Edgewater, was charged with driving while intoxicated.
---
2 PEDESTRIANS CHARGED
In Traffic Accidents. Two pedestrians escaped serious injuries, but received summonses from the police, in traffic accidents last week in the Borough.
Last Tuesday, July 6, Barbara K. Hummel, 22, of 60 Hodge Road was jogging south on Bayard Lane near Boudinot Street when she stepped off the curb and was struck by a car driven by Marleen M. Agritelley, 31, of 2781 Princeton Pike in Lawrence ville. The jogger was treated for a bruised knee and a bump on the head at Princeton Medical Center and released. Police also issued her a ticket.
One day later Martha L. McNamara, 18, of East Windsor, attempted to cross Nassau Street near Witherspoon. Police said she ran directly into the path of a car driven by Jack Roemer, 48, of 210 Shadybrook Lane. The pedestrian was ticketed by police and treated and released from the Medical Center.
---
2 DRIVERS INJURED
2 Cars Totaled. Two drivers were injured and their cars "totaled." following a turning collision Friday afternoon on Route 206 and Cherry Hill Road.
David M. Kim, 23, 49 Cherry Brook Raod, made a left turn into Cherry Hill in front of a car operated by Irving Crespi, 9 Orchard Circle. Mr. Kim told police that he did not see the Crespi car. He was ticketed by Ptl. Anthony Gaylord for failing to yield the right of way at an intersection.
Both drivers sustained injuries and were taken to Princeton Medical Center. Mr. Kim was treated for head injuries, Mr. Crespi for lacerations of the arm and hand.
---
One More on 206. The previous morning, two cars collided on Route 206 between Birch and Mountain Avenue.
According to police, Emily Nechamkin, 22, of 325 Glenn Avenue, Lawrence Township, crossed the center line and struck a pickup truck operated by William V. Knox, 62, of Long Valley. Charged with failing to keep right by Ptl. John Seeley, Ms. Nechamkin told the officer that she had looked into her rear view mirror to check the traffic when she felt a big thud. When she looked back she found that she had run off the roadway into some trees. Police said that she struck the Knox truck on the right side.
Mr. Knox was treated at the hospital for a fracture and multiple injuries. A passenger, Robert Knott, 58, suffered contusions and abrasions.
---
CAR ARSON FOILED
By Police. An attempt at what police have called car arson failed when two officers on patrol noticed flames coming from the rear area of a car parked in a drive off Franklin Avenue.
Ptl. Joseph Wilhelm and Ptl. Chris Boutote observed the flames early Sunday morning and used their patrol car extinguishers to put out the blaze. Police said that a container of gas had been put under a 1975 Chevrolet of a Princeton resident and ignited. The car sustained
only minor damage.
Chief Michael Carnevale remarked that the observation of the officers had prevented the car and those parked next to it. from being engulfed in flames.
---
GAS LEAK TRACED
To Service Station. A number of service departments combined last week to eliminate a potentially dangerous situation resulting from a gasoline leak in the Borough.
After receiving a 1:04 call Sunday morning from a Linden Lane resident reporting a strong odor of gasoline in his basement, police notified Public Service, the fire companies and assistant Fire Chief William Rodweller.
We didn't know how serious the situation was," commented Chief Michael Carnevale. It proved to be serious: gasoline was found in the sewer line.
As police began to check with service station owners in the area about possible leaks, their investigation revealed that the Exxon station across Nassau Street had a leak that was causing the problem.
Firemen attached hoses to the sewer line and flushed it out through the morning hours. Chief Carnevale replied, when asked, that police did not know how much
gasoline had escaped, but added, "it had to be a considerable amount."
The leak, he said, was being repaired by the station. Chief Carnevale added that the Department of Environmental Protection had also been notified of the incident.