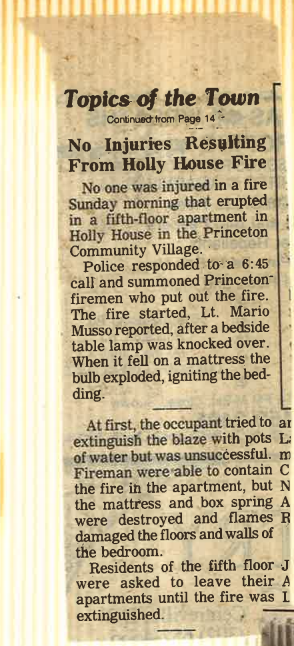 Town Topics
9 December, 1987
No Injuries Resulting From Holly House Fire
No one was injured in a fire Sunday morning that erupted in a fifth-floor apartment in Holly House in the Princeton Community Village.
Police responded to a 6:45 call and summoned Princeton-firemen who put out the fire. The fire started, Lt. Mario Musso reported, after a bedside table lamp was knocked over. When it fell on a mattress the bulb exploded, igniting the bedding.
At first, the occupant tried to ar extinguish the blaze with pots of water but was unsuccessful. Fireman were able to contain C the fire in the apartment, but N the mattress and box spring A were destroyed and flames g damaged the floors and walls of the bedroom.
Residents of the fifth floor were asked to leave their apartments until the fire was extinguished.