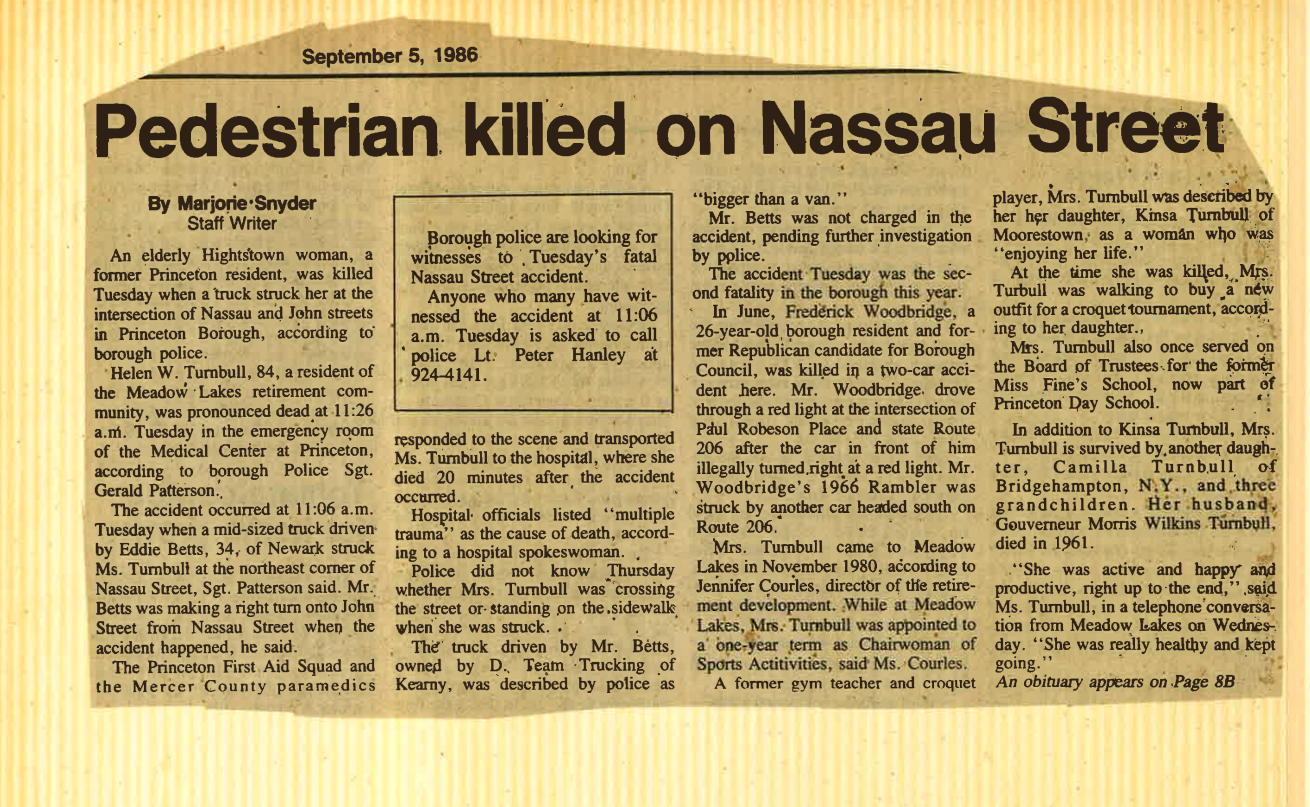 5 September, 1986
Pedestrian killed on Nassau Street
By Marjorie•Snyder
Staff Writer
An elderly Highstown woman, a former Princeton resident, was killed Tuesday when a truck struck her at the intersection of Nassau and John streets in Princeton Borough, according to borough police.
Helen W. Turnbull, 84, a resident of the Meadow  Lakes retirement community, was pronounced dead at 11:26 a.nm. Tuesday in the emergency room of the Medical Center at Princeton, according to borough Police Sgt. Gerald Patterson.
The accident occurred at 11:06 a.m. Tuesday when a midsize truck driven by Eddie Betts, 34, of Newark struck Ms. Turnbull at the northeast corner of Nassau Street, Sgt. Patterson said. Mr. Betts was making a right turn onto John Street from Nassau Street when the accident happened, he said.
The Princeton First Aid Squad and the Mercer County paramedics Borough police are looking for witnesses to , Tuesday's fatal Nassau Street accident. Anyone who many have wit-nessed the accident at 11:06 a.m. Tuesday is asked to call ' police Lt. Peter Hanley it 924-4141. responded to the scene and transported Ms. Turnbull to the hospital, where she died 20 minutes after, the accident, occurred.
Hospital officials listed "multiple trauma" as the cause of death, according to a hospital spokeswoman. ,
Police did not know Thursday whether Mrs. Turnbull was crossing the street or standing ,on the .sidewalk when she was struck.
The truck driven by Mr. Betts, owner by D. Team Trucking of Kearny, was described by police as bigger than a van."
Mr. Betts was not charged in the accident, pending further investigation by police.
The accident Tuesday was the second fatality in the borough this year.
In June, Frederick Woodbridge. a 26-year-old, borough resident and former Republican candidate for Borough Council, was killed in a two-car acci-dent .here. Mr. Woodbridge. drove through a red light at the intersection of Paul Robeson Place and state Route 206 after the car in front of him illegally turned right at a red light. Mr. Woodbridge's 1966 Rambler was struck by another car headed south on Route 206.
Mrs. Turnbull came to Meadow Lakes in November 1980, according to Jennifer Courles, director of the retirement development. While at Meadow Lakes, Mrs. Turnbull was appointed to a one-year term as Chairwoman of Sports Actitivitics, said Ms. Courles.
A former gym teacher and croquet player, Mrs. Turnbull was described by her her daughter, Kinsa Turnbull of Moorestown as a woman who was "enjoying her life."
At the time she was killed, Mrs. Turnbull was walking to buy now outfit for a croquet tournament, accord-ing to her daughter.,
Mrs. Turnbull also once served on the Board of Trustees for the former Miss Fine's School, now part of Princeton Day School. . •
In addition to Kinsa Turnbull, Mrs. Turnbull is survived by,another daughter, Camilla Turnbull of Bridgehampton, N.Y., and three grandchildren. Her husband, Gouverneur Morris Wilkins Turnbull, died in 1961.
"She was active and happy and productive, right up to •the end," ,said Ms. Turnbull, in a telephone conversation from Meadow hakes on Wednesday. "She was really healthy and kept going."
An obituary appears on Page 8B