Daily Princetonian
6 December 1982
Pilot of Plane That Crashed in Woods Behind Airport Still in Critical Condition 
The pilot of a single-engine airplane which crashed in woods beyond the edge of a Princeton Airport runway Sunday afternoon remains tn critical condition Tuesday afternoon in.the intensive care unit at Princeton Medical Center.
The pilot, 50-year old Bruce Williams of Franklin Park, the host of an NBC business and financial radio talk show, sustained multiple injuries, including a broken leg and intestinal lacerations.
Two passengers, Ralph Blasingame, 62, of East Brunswick, and Jay Panter, 50, of Edison, were listed in fair to good condition by the hospital spokesman. The bones in both his upper arms broken, Mr. Blasingame had originally been admitted in serious condition, while Mr. Panter's condition had been listed as critical.
Mr. Williams hap reportedly purchased the 1964 Cessna 182 less than a month ago and had received his pilot's license six months ago.
The accident occurred at 3:25 p.m. in clear weather as the three were returning from a recreational flight to Monmouth County Airport. According to Mr. Blasingame, Mr. Williams had twice tried to land the plane.
After the second aborted landing attempt, Mr. Williams tried to lift the nose of the plane to make another approach. As the plane began to climb, Mr. Blasingame said, the stalling warning device activated. The plane's nose was high in the air. when it struck the top of a stand of trees 300 feet beyond the edge of the runway.
The resultant crash sheared back the wings of the plane and tore open the nose section. It landed on its side in a wooded area. The three victims were carried from the wreckage by members of the Princeton, Rocky Hill and Montgomery rescue squads.
David Van Dyke, owner of the Princeton Airport, described the crash as the worst since he took over the operation in 1969. The first officer at the crash site, Montgomery Ptl. Kenneth A. Chrusz, described the plane as a total wreck.
Mr. Williams's son confirmed that his father has undergone major surgery. He is host of a telephone-
continued on Page 2
Plane Crash
Continued from Page 1
talk program that focuses on business and financial matters and is aired nationwide by the NBC Talknet radio network. It was carried in this area five nights a week on WHWH.
In 1968 Mr. Willams was named mayor of Franklin Township, a community in which he had previously served as councilman.
---
Photo Captions: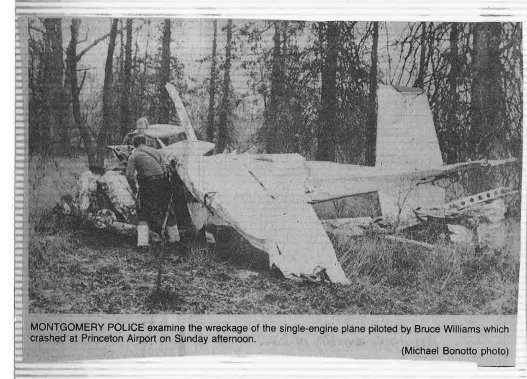 MONTGOMERY POLICE examine the wreckage of the single-engine plane piloted by Bruce Williams which crashed at Princeton Airport on Sunday afternoon.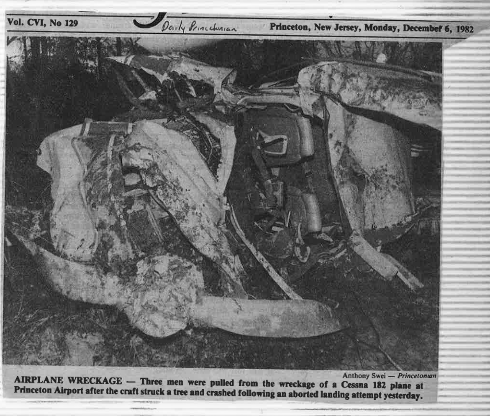 AIRPLANE WRECKAGE – Three men were pulled from the wreckage of a Cessna 182 plane at Princeton Airport after the craft struck a tree and crashed following an aborted landing attempt yesterday.