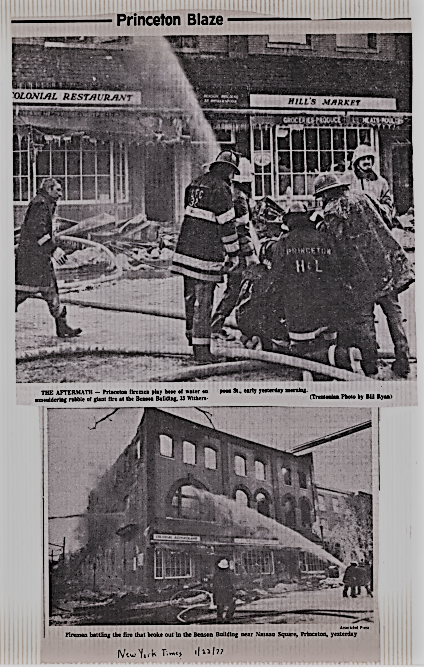 New York Times
22 January 1977
Photo captions:
Top:
THE AFTERMATH — Princeton firemen play hose of water on smoldering rubble of giant fire at the Benson Building, 33 Witherspoon St., early yesterday morning.
(Trentonian Photo by Bill Ryan)
---
Bottom:
Firemen battling the fire that broke out in the Benson Building near Nassau Square, Princeton, yesterday
(Associated press)
---
---
Top:
Man surveys fire damage along Witherspoon Street in Princeton.
---
Bottom Left:
BRICK BY BRICK the Benson Building on Witherspoon Street was slowly disassembled last week. Part of the first floor of the building remains, however, until Lawrence Benson Sr. decides what to do with the site. Mr. Benson says he will do "whatever is economically feasible" but has made not definite decision to date.
(Mark Czajkowski photo)
---
Bottom Right:
REFLECTIONS? — No those windows are showing clear sky as entire insides of Benson Building on Witherspoon St. in Princeton was destroyed yesterday by fire. (Trentonian Photo by Bill Ryan)