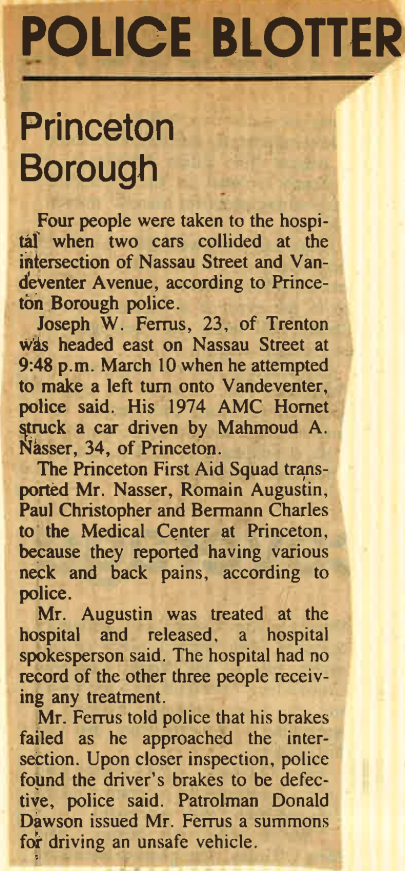 POLICE BLOTTER 
21 March, 1986 (~estimated)
Princeton Borough 
Four people were taken to the hospital when two cars collided at the intersection of Nassau Street and Vandeventer Avenue, according to Princeton Borough police. 
Joseph W. Ferrus, 23, of Trenton was headed east on Nassau Street at 9:48 p.m. March 10 when he attempted to make a left turn onto Vandeventer, police said. His 1974 AMC Hornet struck a car driven by Mahmoud A. Nasser, 34, of Princeton. 
The Princeton First Aid Squad transported Mr. Nasser, Romain Augustin, Paul Christopher and Bermann Charles to the Medical Center at Princeton because they reported having various neck and back pains, according to police. 
Mr. Augustin was treated at the hospital and released, a hospital spokesperson said. The hospital had no record of the other three people receiving any treatment.
 Mr. Ferrus told police that his brakes failed as he approached the intersection. Upon closer inspection, police found the driver's brakes to be defective, police said. Patrolman Donald Dawson issued Mr. Ferrus a summons for driving an unsafe vehicle.