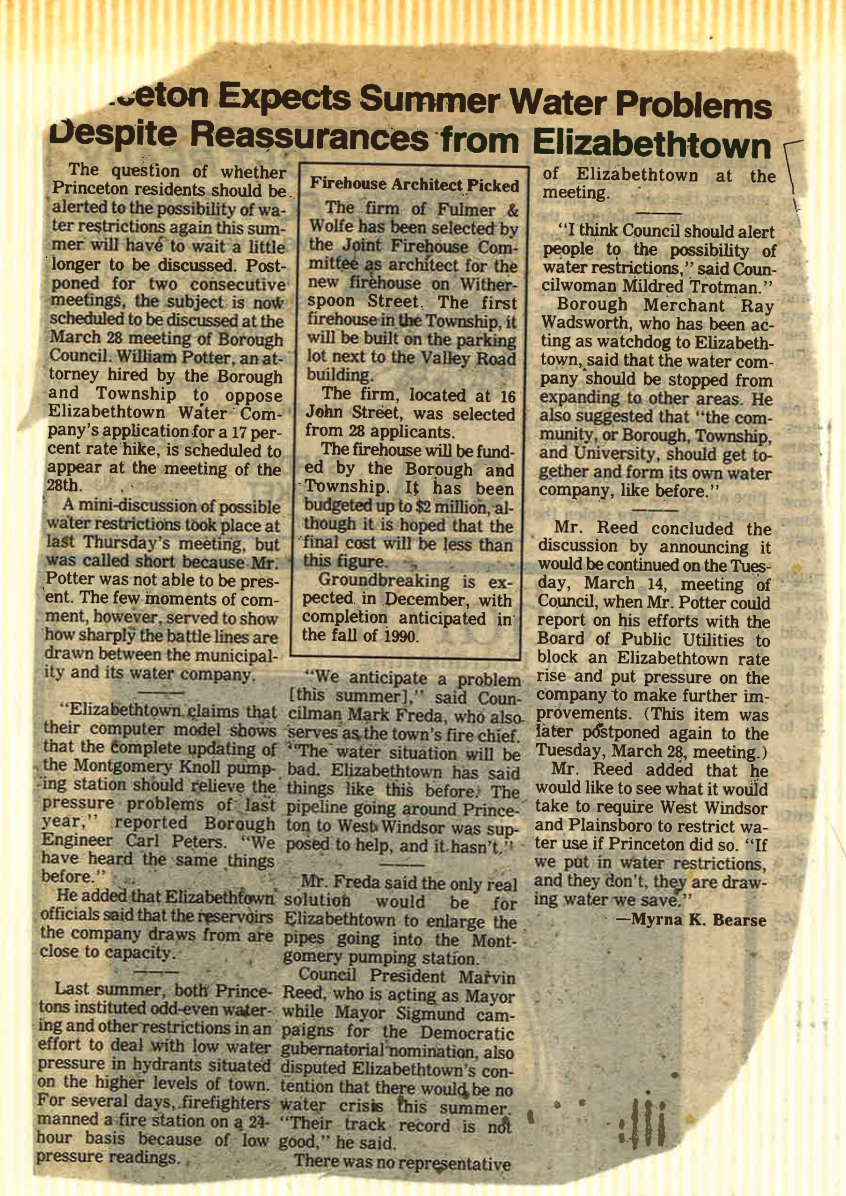 31 March, 1989 (~estimated)
Princeton Expects Summer Water Problems Despite Reassurances from Elizabethtown
Myrna K. Bearse
The question of whether Princeton residents should be alerted to the possibility of water restrictions again this summer will have to wait a little longer to be discussed. Postponed for two consecutive meetings, the subject is no scheduled to be discussed at the March 28 meeting of Borough Council. William Potter, an attorney hired by the Borough and Township to oppose Elizabethtown Water Company application for a 17 percent rate hike, is scheduled to appear at the meeting of the 28th.
A mini-discussion of possible water restrictions took place at last Thursday's meeting. but was called short because Mr. Potter was not able to be present. The few moments of comment, however, served to show how sharply the battle lines are drawn between the municipality and its water company.
"Elizabethtown claims that their computer model shows that the complete updating of the Montgomery Knoll pumping station should relieve the pressure problems of hit year, reported Borough Engineer Carl Peters. "We have heard the same things before."
He added that Elizabethtown officials said that the reservoirs the company draws from are close to capacity.
Last summer, both Prince-tons instituted odd-even watering and other restrictions in an effort to deal with low water pressure in hydrants situated on the higher levels of town. For several days, firefighters manned a lire station on a 24-hour basis because of low pressure readings.
"We anticipate a problem [this summer]," said Councilman Mark Freda, who also-serves.as,the town's fire chief. '"The water situation will be bad. Elizabethtown has said things like this before.. The pipeline going around Princeton to West Windsor was supposed to help, and it hasn't."
Mr. Freda said the only real solution would be for Elizabethtown to enlarge the pipes going into the Montgomery pumping station.
Council President Marvin Reed, who is acting as Mayor while Mayor Sigmund campaigns for the Democratic gubernatorial nomination, also disputed Elizabethtown contention that there would be no water crisis this summer. "Their track record is not good," he said.
There was no representative of Elizabethtown at the meeting.
"I think Council should alert people to the possibility of water restrictions," said Councilwoman Mildred Trotman."
Borough Merchant Ray Wadsworth, who has been acting as watchdog to Elizabethtown, said that the water company should be stopped from expanding to other areas. He also suggested that "the community, or Borough, Township, and University, should get together and form its own water company, like before.
Mr. Reed concluded the discussion by announcing it would be continued on the Tuesday, March 14, meeting of Council, when Mr. Potter could report on his efforts with the Board of Public Utilities to block an Elizabethtown rate rise and put pressure on the company to make further improvements. (This item was later postponed again to the Tuesday, March 28, meeting.)
Mr. Reed added that he would like to see what it would take to require West Windsor and Plainsboro to restrict water use if Princeton did so. "If we pat in water restrictions, and they don't, they), are drawing water we save."
---
Firehouse Architect Picked
The firm of Fulmer & Wolfe has been selected by the Joint Firehouse Committee as architect for the new firehouse on Witherspoon Street. The first firehouse in the Township, it will be built on the parking lot next to the Valley Road building.
The firm, located at 16 John Street, was selected from 28 applicants.
The firehouse will be funded by the Borough and Township. If has been budgeted up to $2 million,-al-though it is hoped that the 'final cost will be less than this figure.
Groundbreaking is expected in December, with completion anticipated in the fall of 1990.