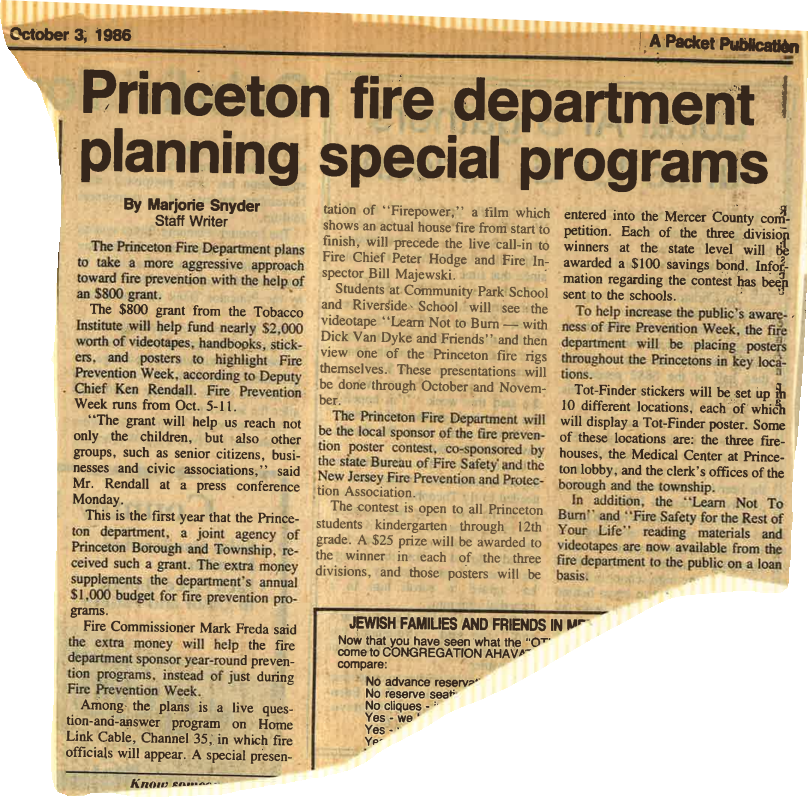 A Packet Publication
3 October, 1986
Princeton fire department planning special programs
By Marjorie Snyder
Staff Writer
The Princeton Fire Department plans to take a more aggressive approach toward fire prevention with the help of an S800 grant.
The $800 grant from the Tobacco Institute will help fund nearly $2,000 worth of videotapes, handbooks, stickers, and posters to highlight Fire Prevention Week, according to Deputy Chief Ken Rendall. Firc Prevention Week runs from Oct. 5-11.
"The grant will help us reach not only the children, but also other groups, such as senior citizens, businesses and civic associations," said Mr. Kendall at a press conference Monday.
This is the first year that the Princeton department, a joint agency of Princeton Borough and Township received such a grant. The extra money supplements the department's annual $51,000 budget for fire prevention programs.
Fire Commissioner Mark Freda said the extra money will help the fire department sponsor year-round prevention programs, instead of just during Fire Prevention Week.
Among, the plans is a live question-and-answer program on Home Link Cable, Channel 35, in which fire officials will appear. A special presentation of "Firepower," a film which shows an actual house fire from start to finish, will precede the live call-in to Fire Chief Peter Hodge and Fire inspector Bill Majewski.
Students at Community Park School and Riverside School will see the videotape "Learn Not to Burn — with Dick Van Dyke and Friends" and then view one of the Princeton fire rigs themselves. These presentations will be done through October and November.
The Princeton Fire Department will be the local sponsor of the tire prevention poster contest, co-sponsored by the state Bureau of Fire Safety' and the New Jersey Fire Prevention and Protection Association.
The contest is open to all Princeton students kindergarten through 12th grade. A $25 prize will be awarded to the winner in each of the three divisions, and those posters will be entered into the Mercer County competition. Each of the three division winners at the state level will he awarded a $100 savings bond. Information regarding the contest has been sent to the schools.
To help increase the public's awareness of Fire Prevention Week, the fire department will be placing posters throughout the Princetons in key locations.
Tot-Finder stickers will be set up Ai 10 different locations, each of which will display a Tot-Finder poster. Some of these locations are: the three fire-houses, the Medical Center at Princeton lobby, and the clerk's offices of the borough and the township.
In addition, the "Learn Not To Burn" and "Fire Safety for the Rest of Your Life" reading materials and videotapes are now available from the fire department to the public on a loan basis.