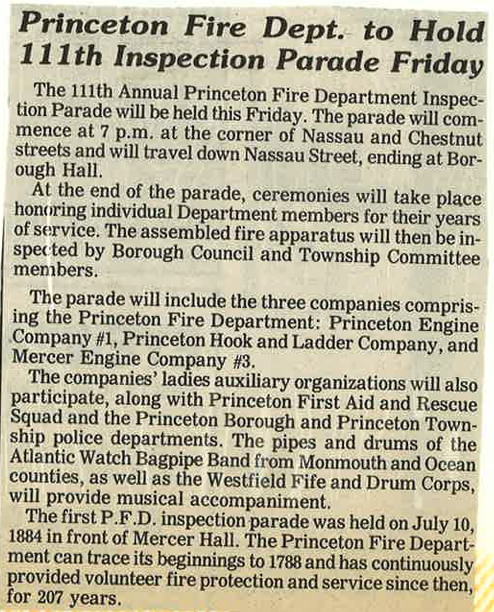 June 20, 1995 (~estimated)
Princeton Fire Dept. to Hold 111th Inspection Parade Friday
The 111th Annual Princeton Fire Department Inspection Parade will be held this Friday. The parade will commence at 7 p.m. at the corner of Nassau and Chestnut streets and will travel down Nassau Street, ending at Borough Hall.
At the end of the parade, ceremonies will take place honoring individual Department members for their years of service. The assembled fire apparatus will then he inspected by Borough Council and Township Committee members.
The parade will include the three companies comprising the Princeton Fire Department: Princeton Engine Company #1, Princeton Hook and Ladder Company, and Mercer Engine Company 113.
The companies' ladies auxiliary organizations will also participate, along with Princeton First Aid and Rescue Squad and the Princeton Borough and Princeton Township police departments. The pipes and drums of the Atlantic Watch Bagpipe Band from Monmouth and Ocean counties, as well as the Westfield Fife and Drum Corps, will provide musical accompaniment.
The first P.F.D. inspection parade was held on July 10, 1884 in front of Mercer Hall. The Princeton Fire Department can trace its beginnings to 1788 and has continuously provided volunteer fire protection and service since then, for 207 years.