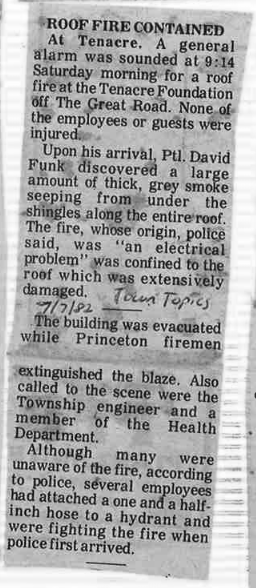 Town Topics
7 July 1982
Roof Fire Contained 
ROOF FIRE CONTAINED
At Tenacre. A general alarm was sounded at 9:14 Saturday morning for a roof fire at the Tenacre Foundation off The Great Road. None of the employees or guests were injured.
Upon his arrival, Ptl. David Funk discovered a large amount of thick, grey smoke seeping from under the shingles along the entire roof. The fire, whose origin, police said, was "an electrical problem" was confined to the roof which was extensively damaged.
The building was evacuated while Princeton firemen extinguished the blaze. Also called to the scene were the Township engineer and a member of the Health Department.
Although many were unaware of the fire, according to police, several employees had attached a one and a half-inch hose to a hydrant and were fighting the fire when police first arrived.