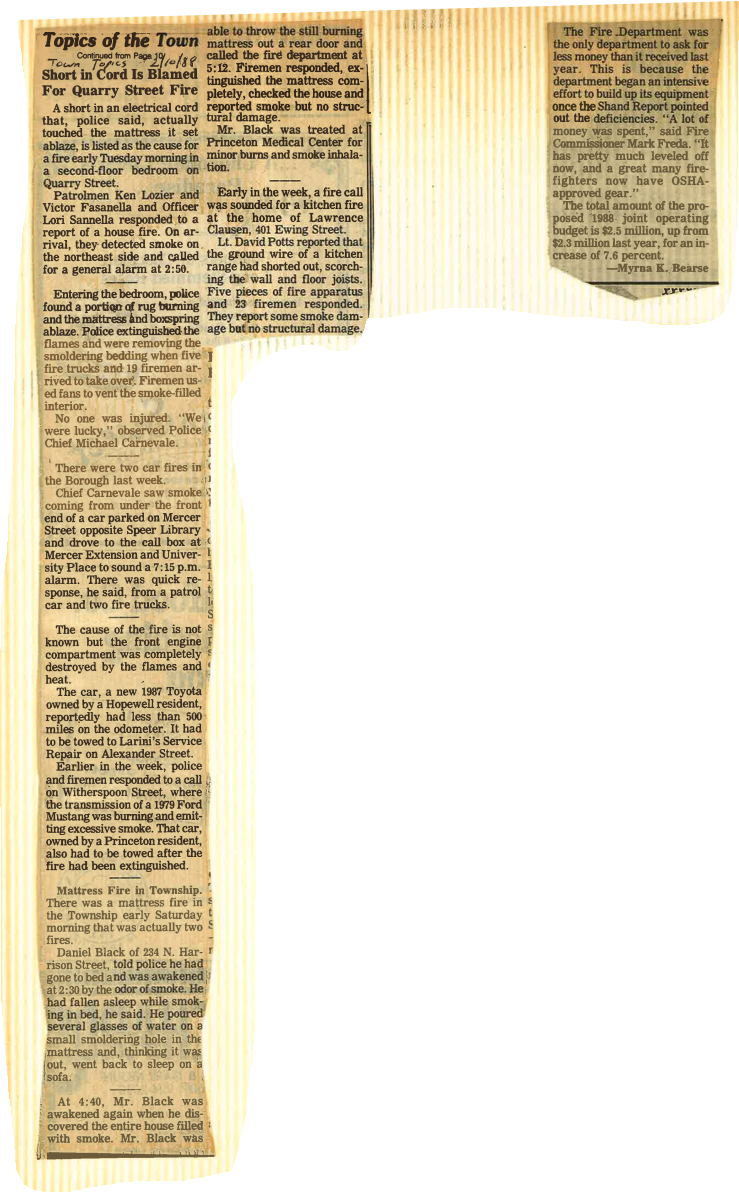 Town Topics
10 February, 1988
Short in Cord Is Blamed For Quarry Street Fire
Myrna K. Bearse
A short in an electrical cord that police said, actually touched the mattress it set ablaze, is listed as the cause for a fire early Tuesday morning In a second-floor bedroom on Quarry Street.
Patrolmen Ken Lazier and Victor Fasanella and Officer Lori Sannella responded to a report of a house fire. On arrival, they detected smoke on the northeast side and called for a general alarm at 2:50.
Entering the bedroom, police found a portion a rug burning and the mattress had boxspring ablaze. Police extinguished the flames and were removing the smoldering bedding when five fire trucks and 19 firemen arrived to take over.Firemen use fans to vent the smoke-filled interior.
No one was injured. "We, were lucky," observed Police Chief Michael Carnevale.
There were two car fires in the Borough last week.
Chief Carnevale saw smoke coming from under the front end of a car parked on Mercer Street opposite Speer Library and drove to the call box at Mercer Extension and University Place to sound a 7:15 p.m. alarm. There was quick re-sponse, he said, from a patrol car and two fire trucks.
The cause of the fire is not known but the front engine compartment was completely destroyed by the flames and heat.
The car, a new 1987 Toyota owned by a Hopewell resident, reportedly had less than 500 miles on the odometer. It had to be towed to Larini's Service Repair on Alexander Street.
Earlier in the week, police and firemen responded to a call On Witherspoon Street, where the transmission of a 1979 Ford Mustang was burning and emitting excessive smoke. That car, owned by a Princeton resident, also had to be towed after the fire had been extinguished.
---
Mattress Fire in Township. There was a mattress fire in the Township early Saturday morning that was actually two fires.
Daniel Mack of 234 N. Harrison Street, told police he had gone to bed and was awakened at 2:30 by the odor of smoke. He had fallen asleep while smoking in bed, he said. He poured several glasses of water on a small smoldering hole in the mattress and, thinking it win , out, went back to sleep on a sofa. .
At 4:40, Mr. Black was awakened again when he discovered the entire home filled with smoke Mr. Black was able to throw the still burning mattress out a rear door and called the fire department at 5:12. Firemen responded, extinguished the mattress completely, checked the house and reported smoke but no structural damage.
Mr. Black was treated at Princeton Medical Center for minor burns and smoke inhalation.
Early in the week, a fire call was sounded for a kitchen fire at the home of Lawrence Clausen, 901 Ewing Street. Lt. David Potts reported that the ground wire of a kitchen range had shorted out, scorching the wall and floor joists. Five pieces of fire apparatus and 23 firemen responded. They report some smoke damage but no structural damage.
The Fire .Department was the only department to ask for less money than it received last year. This is because the department began an intensive effort to build up its equipment Once the Shand Report pointed out the deficiencies. "A lot of money was spent," said Fire Commissioner Mark Freda. "It has pretty much leveled off now, and a great many firefighters now have OSHA-approved gear."
The total amount of the proposed  1986 joint operating budget is $2.5 million, up from $2.3 million last year, for an increase of 7.6 percent.