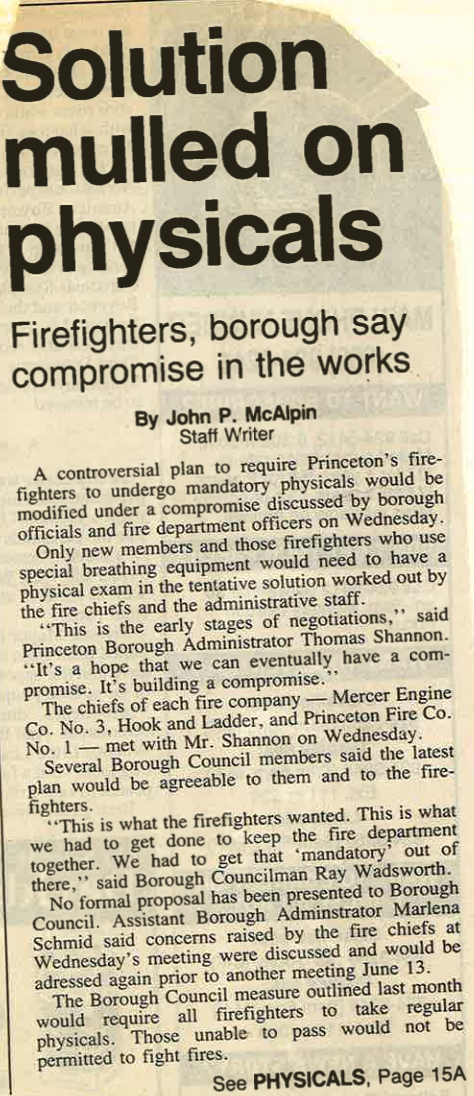 May 14, 1994 (~estimated)
Solution mulled on physicals
Firefighters, borough say compromise in the works
By John P. McAlpin
Staff Writer
A controversial plan to require Princeton's firefighters to undergo mandatory physicals would be modified under a compromise discussed by borough officials and fire department officers on Wednesday.
Only new members and those firefighters who use special breathing equipment would need to have a physical exam in the tentative solution worked out by the fire chiefs and the administrative staff.
This is the early stages of negotiations," said Princeton Borough Administrator Thomas Shannon. "It's a hope that we can eventually have a com-promise. It's building a compromise."
The chiefs of each fire company — Mercer Engine Co. No. 3, Hook and Ladder, and Princeton Fire Co. No. 1 — met with Mr. Shannon on Wednesday.
Several Borough Council members said the latest plan would be agreeable to them and to the firefighters.
"This is what the firefighters wanted. This is what we had to get done to keep the fire department together. We had to get that 'mandatory' out of there," said Borough Councilman Ray Wadsworth.
No formal proposal has been presented to Borough Council. Assistant Borough Adminstrator Marlena Schmid said concerns raised by the fire chiefs at Wednesday's meeting were discussed and would be adressed again prior to another meeting June 13.
The Borough Council measure outlined last month would require all firefighters to take regular physicals. Those unable to pass would not be permitted to first fires.
---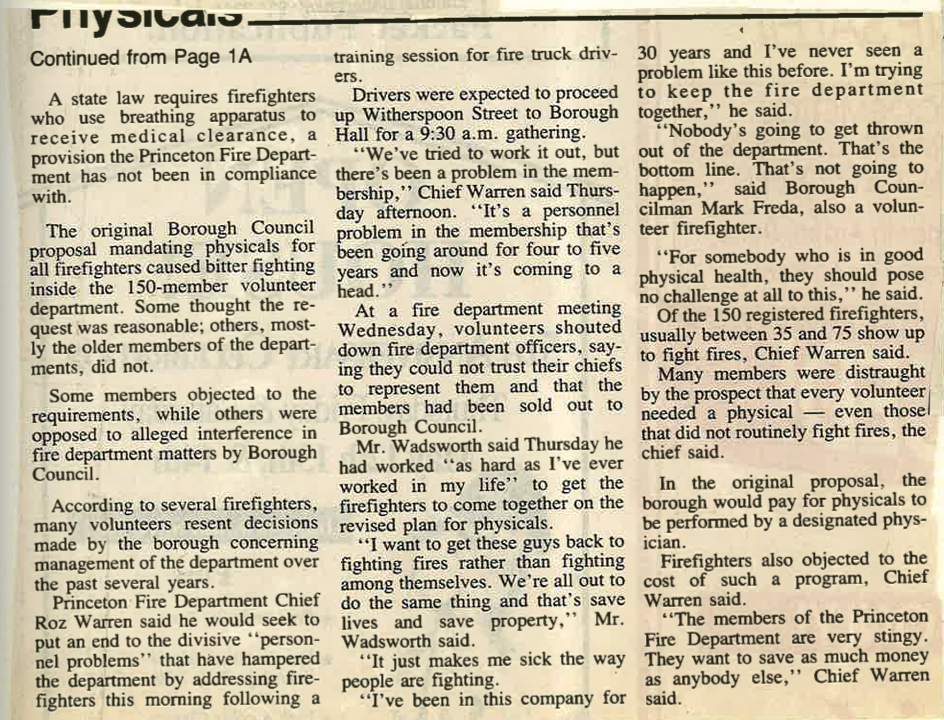 A state law requires firefighters who use breathing apparatus to receive medical clearance, a provision the Princeton Fire Department has not been in compliance with.
The original Borough Council proposal mandating physicals for all firefighters caused bitter fighting inside the 150-member volunteer department. Some thought the request was reasonable; others, mostly the older members of the departments, did not.
Some members objected to the requirements, while others were opposed to alleged interference in fire department matters by Borough Council.
According to several firefighters, many volunteers resent decisions made by the borough concerning management of the department over the past several years.
Princeton Fire Department Chief Roz Warren said he would seek to put an end to the divisive "personnel problems" that have hampered the department by addressing firefighters this morning following a training session for fire truck drivers.
Drivers were expected to proceed up Witherspoon Street to Borough Hall for a 9:30 a.m. gathering.
"We've tried to work it out, but there's been a problem in the membership," Chief Warren said Thursday afternoon. "It's a personnel problem in the membership that's been going around for four to five years and now it's coming to a head."
At a fire department meeting Wednesday, volunteers shouted down fire department officers, saying they could not trust their chiefs to represent them and that the members had been sold out to Borough Council.
Mr. Wadsworth said Thursday he had worked "as hard as I've ever worked in my life" to get the firefighters to come together on the revised plan for physicals.
"I want to get these guys back to fighting fires rather than fighting among themselves. We're all out to do the same thing and that's save lives and save property," Mr. Wadsworth said.
"It just makes me sick the way people are fighting.
"I've been in this company for 30 years and I've never seen a problem like this before. I'm trying to keep the fire department together," he said.
"Nobody's going to get thrown out of the department. That's the bottom line. That's not going to happen," said Borough Councilman Mark Freda, also a volunteer firefighter.
"For somebody who is in good physical health, they should pose no challenge at all to this," he said.
Of the 150 registered firefighters, usually between 35 and 75 show up to fight fires. Chief Warren said.
Many members were distraught by the prospect that every volunteer, needed a physical — even those' that did not routinely fight fires, the chief said.
In the original proposal. the borough would pay for physicals to be performed by a designated physician.
Firefighters also objected to the cost of such a program, Chief Warren said.
"The members of the Princeton Fire Department are very stingy. They want to save as much money as anybody else," Chief Warren said.