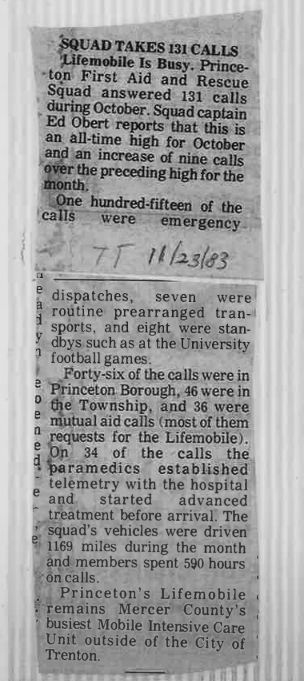 Town Topics
23 November 1983
Squad takes 131 calls
Lifemobile Is Busy. Princeton First Aid and Rescue Squad answered 131 calls during October. Squad captain Ed Obert reports that this is an all-time high for October and an increase of nine calls over the preceding high for the month.
One hundred-fifteen of the calls were emergency dispatches, seven were routine prearranged transports, and eight were standbys such as at the University football games.
Forty-six of the calls were in Princeton Borough, 46 were in the Township, and 36 were mutual aid calls (most of them requests for the Lifemobile). On 34 of the calls the n paramedics established telemetry with the hospital and started advanced treatment before arrival. The squad's vehicles were driven  1169 miles during the month and members spent 590 hours on calls.
Princeton's Lifemobile remains Mercer County's ' busiest Mobile Intensive Care Unit outside of the City of Trenton.