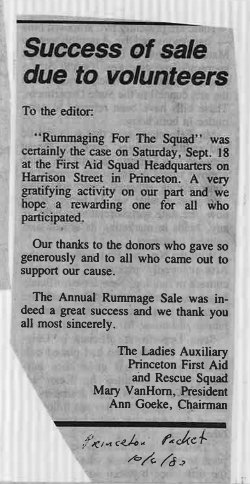 Princeton Packet
6 October 1982
Success of sale due to volunteers
To the editor:
"Rummaging For The Squad" was certainly the case on Saturday, Sept. 18 at the First Aid Squad Headquarters on Harrison Street in Princeton. A very gratifying activity on our part and we hope a rewarding one for all who participated.
Our thanks to the donors who gave so generously and to all who came out to support our cause.
The Annual Rummage Sale was indeed a great success and we thank you all most sincerely.
The Ladies Auxiliary
Princeton First Aid
and Rescue Squad
Mary VanHom, President
Ann Goeke, Chairman