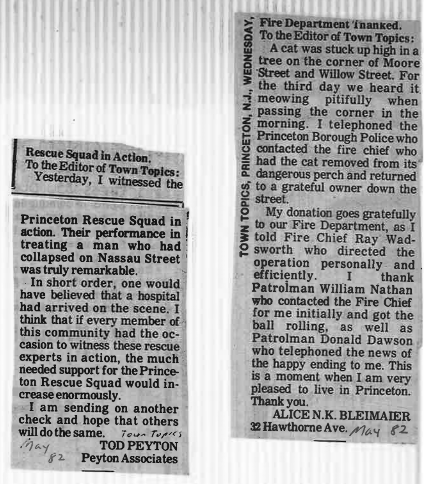 Town Topics
May 1982
Rescue Squad in Action,
To the Editor of Town Topics:
Yesterday, I witnessed the Princeton Rescue Squad in action. Their performance in treating a man who had collapsed on Nassau Street was truly remarkable.
In short order, one would have believed that a hospital had arrived on the scene. I think that if every member of this community had the occasion to witness these rescue experts in action, the much needed support for the Princeton Rescue Squad would increase enormously.
I am sending on another check and hope that others will do the same.
TOD PEYTON
Peyton Associates
---
Fire Department Thanked,
To the Editor of Town Topics :
A cat was stuck up high in a tree on the corner of Moore Street and Willow Street. For the third day we heard it meowing pitifully when passing the corner in the morning. I telephoned the Princeton Borough Police who contacted the fire chief who had the cat removed from its dangerous perch and returned to a grateful owner down the street.
My donation goes gratefully to our Fire Department, as I told Fire Chief Ray Wadsworth who directed the operation personally and efficiently. I thank Patrolman William Nathan who contacted the Fire Chief for me initially and got the ball rolling, as well as Patrolman Donald Dawson who telephoned the news of he happy ending to me. This s a moment when I am very pleased to live in Princeton, Thank you.
ALICE N.K. BLEIMAIER
32 Hawthorne Ave.