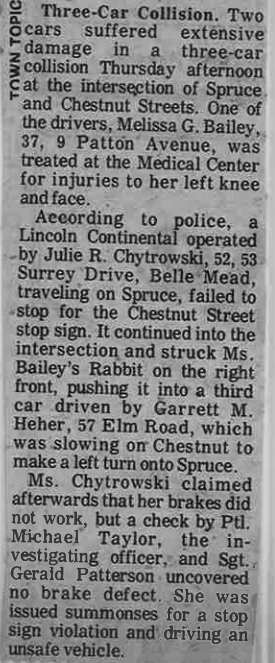 Town Topics
10 October, 1984
Three-Car Collision
Two cars suffered extensive damage in a three-car collision Thursday afternoon at the intersection of Spruce and Chestnut Streets. One of the drivers, Melissa G. Bailey, 37, 9 Patton Avenue, was treated at the Medical Center for injuries to her left knee and face.
According to police, a Lincoln Continental operated by Julie R. Chytrowski, 52, 53 Surrey Drive, Belle Mead, traveling on Spruce, failed to stop for the Chestnut Street stop sign. It continued into the intersection and struck Ms. Bailey's Rabbit on the right front, pushing it into a third car driven by Garrett M. Heher, 57 Elm Road, which was slowing on Chestnut to make a left turn onto Spruce.
Ms. Chytrowski claimed afterwards that her brakes did not work, but a check by Ptl. Michael Taylor, the investigating officer, and Sgt. Gerald Patterson uncovered no brake defect. She was issued summonses for a stop sign violation and driving an unsafe vehicle.