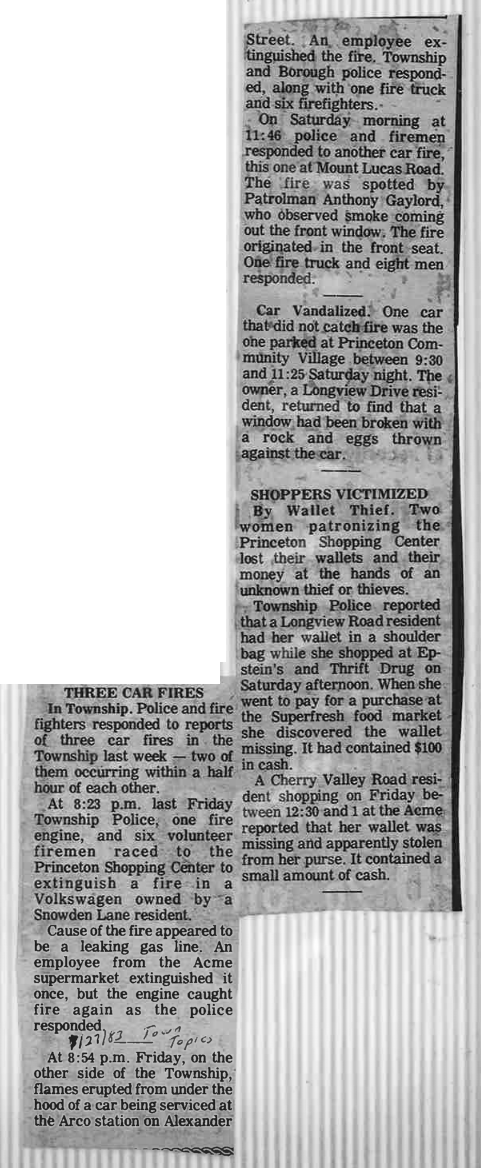 Town Topics
27 August 1983
Three Car Fires
In Township. Police and fire fighters responded to reports of three car fires in the Township last week — two of them occurring within a half hour of each other.
At 8:23 p.m. last Friday Township Police, one fire engine, and six volunteer
firemen raced to the Princeton Shopping Center to extinguish a fire in a Volkswagen owned by a Snowden Lane resident.
Cause of the fire appeared to be a leaking gas line. An employee from the Acme supermarket extinguished it once, but the engine caught fire again as the police responded.
At 8:54 p.m. Friday, on the other side of the Township, flames erupted from under the hood of a car being serviced at the Arco station on Alexander Street. An employee extinguished the fire. Township and Borough police responded, along with one fire truck and six firefighters.
On Saturday morning at 11:46 police and firemen responded to another car fire, this one at Mount Lucas Road. The fire was spotted by Patrolman Anthony Gaylord, who observed smoke coming out the front window. The fire originated in the front seat. One fire truck and eight men responded.
---
Car Vandalized. One car that did not catch fire was the one parked at Princeton Community Village between 9:30 and 11:25 Saturday night. The owner, a Longview Drive resident, returned to find that a window had been broken with a rock and eggs thrown against the car.
---
SHOPPERS VICTIMIZED By Wallet Thief. Two women patronizing the Princeton Shopping Center lost their wallets and their money at the hands of an unknown thief or thieves.
Township Police reported that a Longview Road resident had her wallet in a shoulder bag while she shopped at Epstein's and Thrift Drug on Saturday afternoon. When she went to pay for a purchase at the Superfresh food market she discovered the wallet missing. It had contained $100 in cash.
A Cherry Valley Road resident shopping on Friday between 12:30 and 1 at the Acme reported that her wallet was missing and apparently stolen from her purse. It contained a small amount of cash.