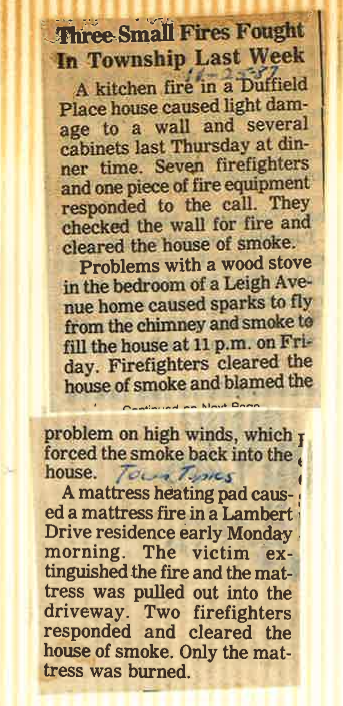 Town Topics
25 November, 1987
Three Small Fires Fought In Township Last Week
A kitchen fire in a Duffield Place house caused light damage to a wall and several cabinets last Thursday at dinner time. Some firefighters and one piece of fire equipment responded to the call. They checked the wall for fire and cleared the home of smoke.
Problems with a wood stove in the bedroom of a Leigh Avenue home caused sparks to fly from the chimney and smoke to fill the home at 11 p.m. on day. Firefighters cleared the house of smoke and blamed the problem on high winds, which I forced the smoke back into the house.
A mattress heating pad cause a mattress fire in a Lambert Drive residence early Monday morning . The victim extinguished the fire and the mattress was pulled out into the driveway. Two firefighters responded and cleared the home of smoke. Only the mattress was burned.