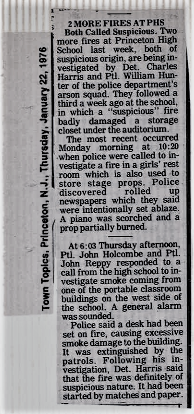 Town Topics
22 January 1976
2 MORE FIRES AT PHS
Both Called suspicious. Two more fires at Princeton High School last week, both of suspicious origin, are being investigated by Det. Charles Harris and Ptl. William Hunter of the police department's arson squad. They followed a third a week ago at the school, in which a "suspicious" fire badly damaged a storage closet under the auditorium.
The most recent occurred Monday morning at 10:20 when police were called to investigate a fire in a girls' restroom which is also used to store stage props. Police discovered rolled up newspapers which they said were intentionally set ablaze. A piano was scorched and a prop partially burned.
At 6:03 Thursday afternoon. Ptl. John Holcombe and Ptl. John Reppy responded to a call from the high school to investigate smoke coming from one of the portable classroom buildings on the west side of the school. A general alarm was sounded.
Police said a desk had been set on fire, causing excessive smoke damage to the building. It was extinguished by the patrols. Following his Investigation, Det. Harris said that the fire was definitely of suspicious nature. It had been started by matches and paper.