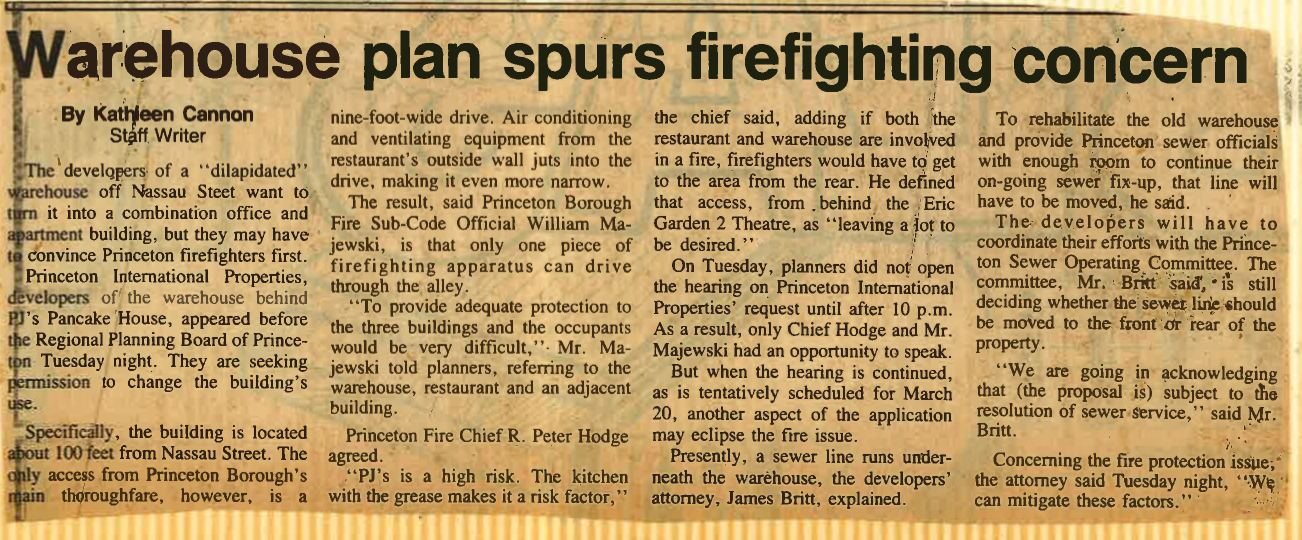 5 March, 1986
Town Topics
Warehouse plan spurs firefighting concern
By Kattleen Cannon
Staff Writer
The developers, of a "dilapidated" warehouse off Nassau Street, want to turn it into a combination office and apartment building, but they may have to convince Princeton firefighters first.
Princeton International Properties, developers of the warehouse behind PJ's Pancake House, appeared before the Regional Planning Board of Princeton Tuesday night. They are seeking permission to change the building's use.
Specifically, the building is located about 100 feet from Nassau Street. The only access from Princeton Borough's main thoroughfare, however, is a nine-foot-wide drive. Air conditioning and ventilating equipment from the restaurant's outside wall juts into the drive, making it even more narrow.
The result, said Princeton Borough Fire Sub-Code Official William Majewski, is that only one piece of firefighting apparatus can drive through the alley.
"To provide adequate protection to the three buildings and the occupants would be very difficult," Mr. Majewski told planners, referring to the warehouse, restaurant and an adjacent building.
Princeton Fire Chief R. Peter Hodge agreed.
"PJ's is a high risk. The kitchen with the grease makes it a risk factor," the chief said, adding if both the restaurant and warehouse are involved in a fire, firefighters would have to get to the area from the rear. He defined that access, from behind the Eric Garden 2 Theatre, as "leaving a lot to be desired."
On Tuesday, planners did not open the hearing on Princeton International Properties' request until after 10 p.m. As a result, only Chief Hodge and Mr. Majewski had an opportunity to speak.
But when the hearing is continued, as is tentatively scheduled for March 20, another aspect of the application may eclipse the fire issue.
Presently, a sewer line runs underneath the warehouse, the developers' attorney, James Britt, explained.
To rehabilitate the old warehouse and provide Princeton sewer officials with enough room to continue their ongoing sewer fixup that line will have to be moved, he said.
The developers will have to coordinate their efforts with the Princeton Sewer Operating Committee. The committee, Mr. Britt said, is still deciding whether the sewer line should be moved to the front or rear of the property.
"We are going in acknowledging that (the proposal is) subject to the resolution of sewer service," said Mr. Britt.
Concerning the fire protection issue, the attorney said Tuesday night, "We can mitigate these factors."