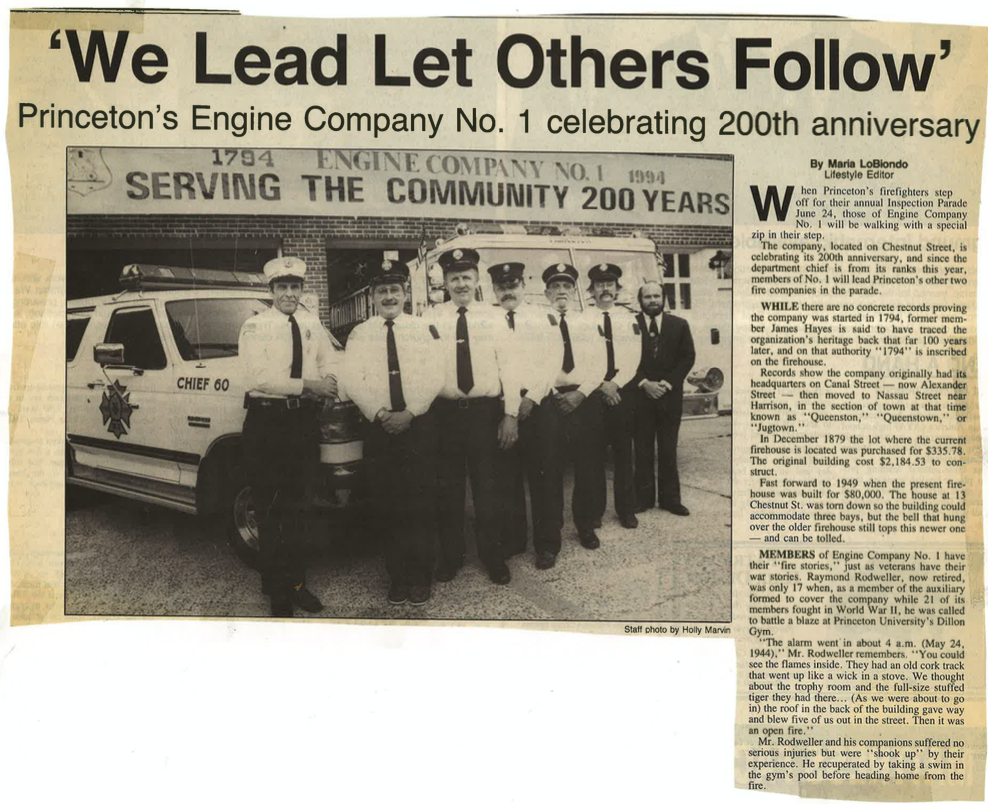 June 14, 1994 (~estimated)
'We Lead Let Others Follow'
Princeton's Engine Company No. 1 celebrating 200th anniversary
By Maria LoBiondo
Lifestyle Editor
When Princeton's firefighters step off for their annual Inspection Parade June 24, those of Engine Company No. 1 will be walking with a special zip in their step.
The company, located on Chestnut Street, is celebrating its 200th anniversary, and since the department chief is from its ranks this year, members of No. 1 will lead Princeton's other two fire companies in the parade.
WHILE there are no concrete records proving the company was started in 1794, former member James Hayes is said to have traced the organization's heritage back that far 100 years later, and on that authority "1794" is inscribed on the firehouse.
Records show the company originally had its headquarters on Canal Street — now Alexander Street — then moved to Nassau Street near Harrison, in the section of town at that time known as "Queenston," "Queenstown," or "Jugtown."
In December 1879 the lot where the current firehouse is located was purchased for $335.78. The original building cost $2,184.53 to construct.
Fast forward to 1949 when the present fire-house was built for $80,000. The house at 13 Chestnut St. was torn down so the building could accommodate three bays, but the bell that hung over the older firehouse still tops this newer one — and can be tolled.
MEMBERS of Engine Company No. 1 have their "fire stories," just as veterans have their war stories. Raymond Rodweller, now retired, was only 17 when, as a member of the auxiliary formed to cover the company while 21 of its members fought in World War II, he was called to battle a blaze at Princeton University's Dillon Gym.
"The alarm went in about 4 a.m. (May 24, 1944)," Mr. Rodweller remembers. "You could see the flames inside. They had an old cork track that went up like a wick in a stove. We thought about the trophy room and the full-size stuffed tiger they had there… (As we were about to go in) the roof in the back of the building gave way and blew five of us out in the street. Then it was an open fire."
Mr. Rodweller and his companions suffered no serious injuries but were "shook up" by their experience. He recuperated by taking a swim in the gym's pool before heading home from the fire.