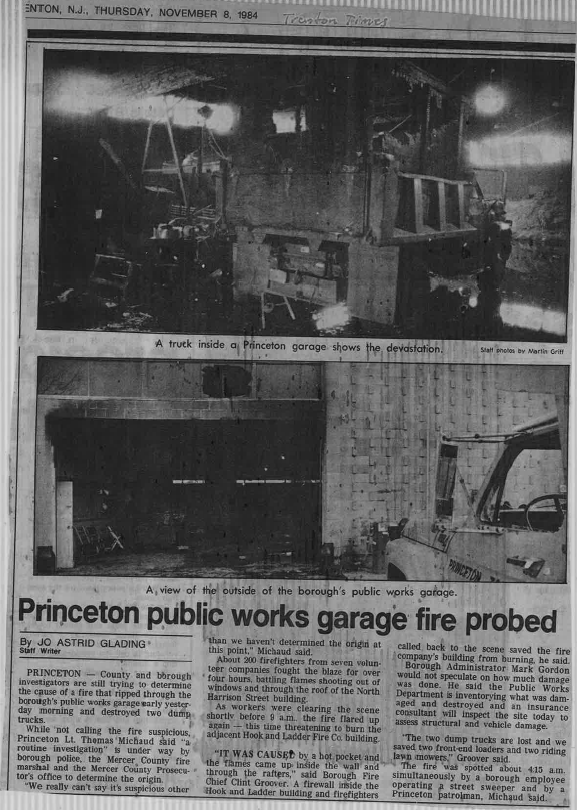 Trenton Times
8 November, 1984
Princeton public works garage fire probed
Author: Jo Astrid Glading, Staff Writer
PRINCETON — County and borough investigators are still trying to determine the cause of a fire that ripped through the borough's public works garage early yesterday morning and destroyed two dump trucks.
While not calling the fire suspicious. Princeton Lt. Thomas Michaud said "a routine investigation" is under way by borough police, the Mercer County fire marshal and the Mercer County Prosecutor's office to determine the origin.
"We really can't say it's suspicious other than we haven't determined the origin at this point." Michaud said.
About 200 firefighters from seven volunteer companies fought the blaze for over four hours, battling flames shooting out of windows and through the roof of the North Harrison Street building.
As workers were clearing the scene shortly before 9 a.m.. the fire flared up again — this lime threatening to burn the adjacent Hook and Ladder Fire Co. building.
"IT WAS CAUSED by a hot pocket and the flames came up inside the wall and through the rafters," said Borough Fire Chief Clint Groover. A firewall inside the Hook and Ladder building and firefighters called back to the scene saved the fire company's building from burning, he said.
Borough Administrator Mark Gordon would not speculate on how much damage was done. He said the Public Works Department is inventorying what was damaged and destroyed and an insurance consultant will inspect the site today to assess structural and vehicle damage.
"The two dump trucks are lost and we saved two front-end loaders and two riding lawn mowers." Groover said.
The fire was spotted about 4:15 a m. simultaneously by a borough employee operating a street sweeper and by a Princeton patrolman, Michaud said.