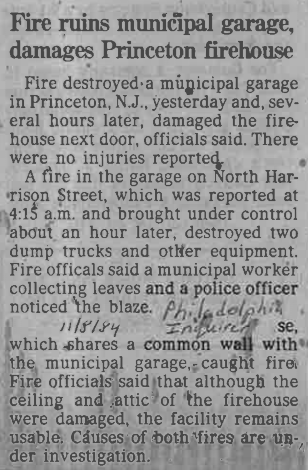 Philadelphia Inquirer
8 November, 1984
Fire ruins municipal garage, damages Princeton firehouse
Fire destroyed a municipal garage in Princeton, N.J., yesterday and, several hours later, damaged the firehouse next door, officials said. There were no injuries reported.
A fire in the garage on North Harrison Street, which was reported at 4:15 a.m. and brought under control about an hour later, destroyed two dump trucks and other equipment. Fire officials said a municipal worker collecting leaves and a police officer noticed the blaze.
[text missing] … se, which shares a common wall with the municipal garage, caught fire. Fire officials said that although the ceiling and attic of \he firehouse were damaged, the facility remains usable. Causes of both fires are under investigation.