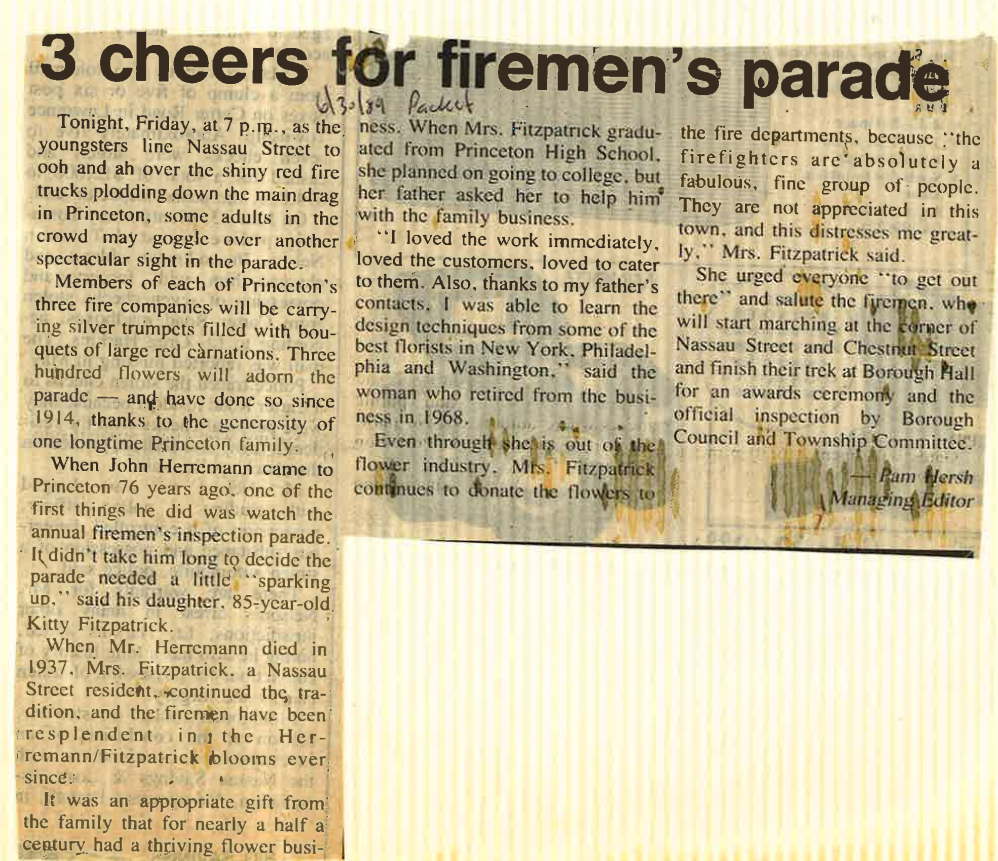 Princeton Packet
30 June, 1989
3 cheers for firemen's parade
Tonight, Friday, at 7 p.m. as the youngsters line Nassau Street to ooh and ah over the shiny red fire trucks plodding down the main drag in Princeton, some adults in the crowd may goggle over another spectacular sight in the parade.
Members of each of Princeton's three fire companies will be carrying silver trumpets filled with bouquets of large red carnations. Three hundred flowers will adorn the parade — and have done so since 1914 thanks to the generosity of one longtime Princeton family.
When John Herreman came to Princeton 76 years ago, one of the first things he did was watch the annual firemen's inspection parade. It didn't take him long to decide the parade needed a little "sparking up." said his daughter, 85-year-old Kitty Fitzpatrick.
When Mr. Herremann died in 1937, Mrs. Fitzpatrick a Nassau Street resident continued the tradition and the firemen have been resplendent in the Heremann/Fitzpatrick blooms ever since.
It was an appropriate gift from the family that for nearly a half a century had a thriving flower business. When Mrs. Fitzpatrick graduated from Princeton High School, she planned on going to college but her father asked to help him with the family business.
"I loved the work immediately loved the customers, loved to cater to them. Also tanks to my father's contacts, I was able to learn the design techniques from some of the best florist in New York, Philadelphia and Washington," said the woman who retired from the business in 1968.
Even though she is out of the flower industry. Mrs. Fitzpatrick continues to donate the flowers to the fire departments, because "the firefighters are absolutely a fabulous, fine group of people. They are not appreciated in this town, and this distresses me greatly," Mrs. Fitzpatrick said.
She urged everyone "to get out there" and salute the firemen who will start marching at the corner of Nassau Street and Chestnut Street and finish thier trek at Borough Hall for an awards ceremony and the official inspection by Borough Council and Township Committee.
 — Pam Hersh
Managing Editor