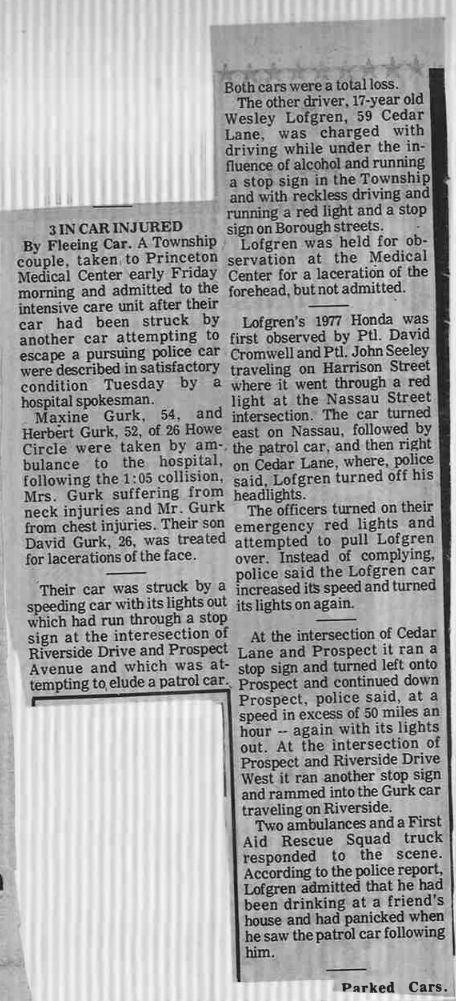 27 December 1982
(date estimated)
3 in car injured
3 IN CAR INJURED By Fleeing Car. A Township couple, taken to Princeton Medical Center early Friday morning and admitted to the intensive care unit after their car had been struck by another car attempting to escape a pursuing police car were described in satisfactory condition Tuesday by a hospital spokesman.
Maxine Gurk, 54, and Herbert Gurk, 52, of 26 Howe Circle were taken by ambulance to the hospital, following the 1:05 collision, Mrs. Gurk suffering from neck injuries and Mr. Gurk from chest injuries. Their son David Gurk, 26. was treated for lacerations of the face.
Their car was struck by a speeding car with its lights out which had run through a stop sign at the intersection of Riverside Drive and Prospect Avenue and which was attempting to elude a patrol car.
Both cars were a total loss.
The other driver, 17-year old Wesley Lofgren, 59 Cedar Lane, was charged with driving while under the influence of alcohol and running a stop sign in the Township and with reckless driving and running a red light and a stop sign on Borough streets.
Lofgren was held for observation at the Medical Center for a laceration of the forehead, but not admitted.
Lofgren's 1977 Honda was first observed by Ptl. David Cromwell and Ptl. John Seeley traveling on Harrison Street where it went through a red light at the Nassau Street intersection. The car turned east on Nassau, followed by the patrol car. and then right on Cedar Lane, where, police said. Lofgren turned off his headlights.
The officers turned on their emergency red lights and attempted to pull Lofgren over. Instead of complying, police said the Lofgren car increased its speed and turned its lights on again.
At the intersection of Cedar Lane and Prospect it ran a stop sign and turned left onto Prospect and continued down Prospect, police said, at a speed in excess of 50 miles an hour – again with its lights out. At the intersection of Prospect and Riverside Drive West it ran another stop sign and rammed into the Gurk car traveling on Riverside.
Two ambulances and a First Aid Rescue Squad truck responded to the scene. According to the police report, Lofgren admitted that he had been drinking at a friend's house and had panicked when he saw the patrol car following him.