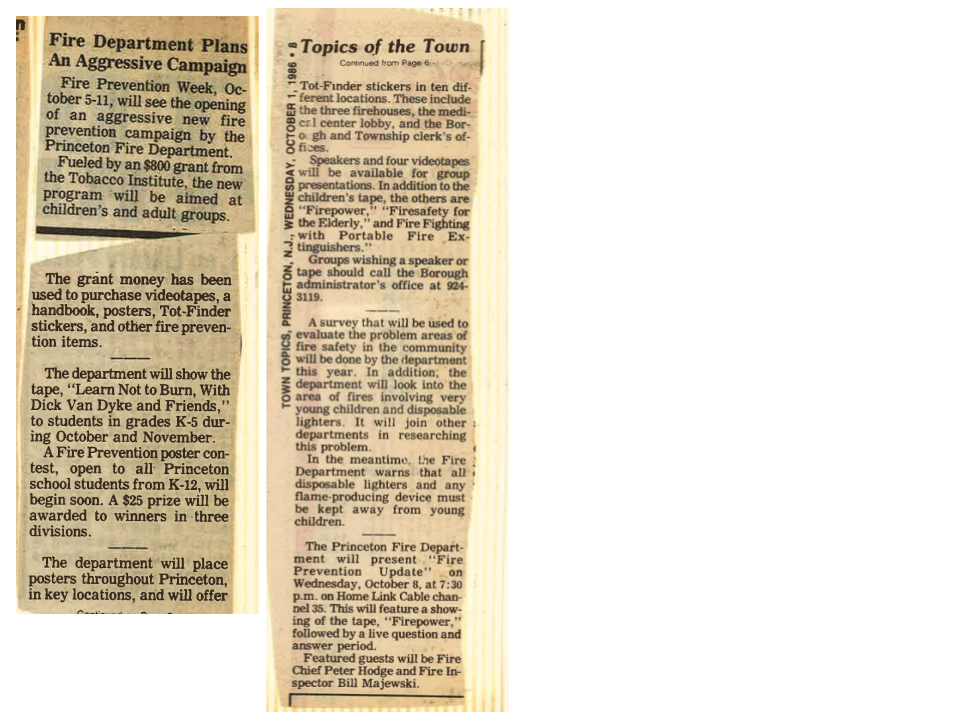 Princeton Packet
3 October, 1986
Fire Department Plans An Aggressive Campaign 
Fire Prevention Week, October 5-11, will see the opening of an aggressive new fire prevention campaign by the Princeton Fire Department. Fueled by an $800 grant from the Tobacco Institute, the new program will be aimed at children's and adult groups.
The grant money has been used to purchase videotapes, a handbook, posters, Tot-Finder stickers, and other fire prevention items.
The department will show the tape, "Learn Not to Burn, With Dick Van Dyke and Friends," to students in grades K-5 during October and November.
A Fire Prevention poster contest, open to all Princeton school students from K-12, will begin soon. A $25 prize will be awarded to winners in three divisions.
The department will place posters throughout Princeton, in key locations, and will offer Tot-Finder stickers in ten different locations. These include the three firehouses, the medical center lobby, and the Borough and Township clerk's office.
Speakers and four videotapes will be available for group presentations. In addition to the children's tape, the others are  "Firepower," "Fire Safety for the Elderly," and Firefighting with Portable Fire Extinguishers."
Groups wishing a speaker or tape should call the Borough administrator's office at 924-3119.
A survey that will be used to evaluate the problem areas of fire safety in the community will be done by the department this year. In addition, the department will look into the area of fires involving very young children and disposable lighters. It will join other departments in researching this problem.
In the meantime the Fire Department warns that all disposable lighters and any flame-producing device must be kept away from young children. The Princeton Fire Department will present "Fire Prevention Update" on Wednesday, October 8, at 7:30 p.m. on Home Link Cable channel 35. This will feature a showing of the tape, "Firepower," followed by a live question and answer period. Featured guests will be Fire Chief Peter Hodge and Fire Inspector Bill Majewski.