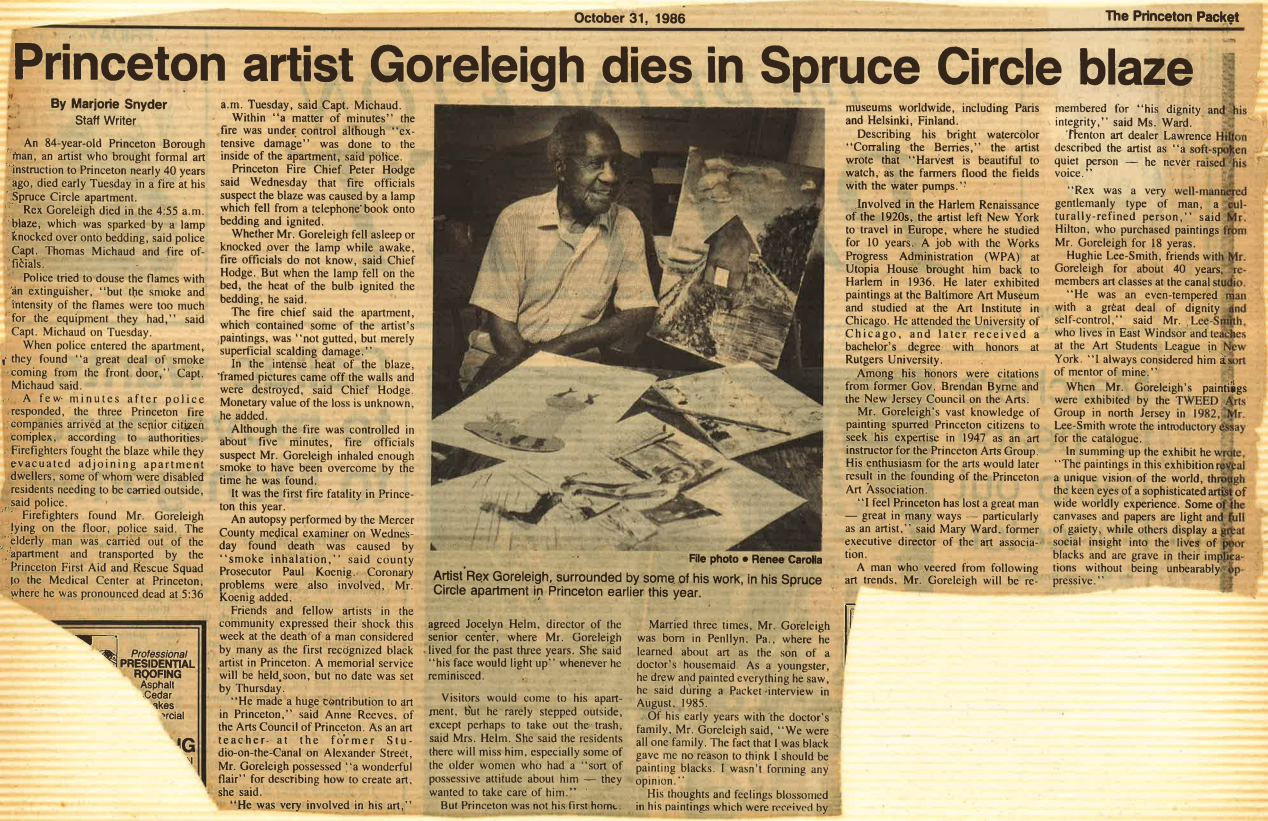 The Princeton Packet
31 October, 1986
Princeton artist Goreleigh dies in Spruce Circle blaze
By Marjorie Snyder
Staff Writer
An 84-year-old Princeton Borough Man, an artist who brought formal art instruction to Princeton nearly 40 years ago, died early Tuesday in a fire at his Spruce Circle apartment.
Rex Goreleigh died in the 4:55 a.m. blaze, which was sparked by a lamp knocked over onto bedding, said police Capt. Thomas Michaud and fire officials.
Police tried to douse the flames within extinguisher, "but the smoke and intensity of the flames were too much for the equipment they had," said Capt. Michaud on Tuesday.
When police entered the apartment, they found "a great deal of smoke coming from the front door," Capt. Michaud said.
A few minutes after police responded, the three Princeton fire 'companies arrived at the senior citisch complex. according to authorities.
Firefighters fought the blaze while they evacuated adjoining apartment dwellers, some of whom were disabled residents needing to be carried outside, said police. Firefighters found Mr. Goreleigh lying on the floor, police said. The elderly man was carried out of the ;apartment and transported by the Princeton First Aid and Rescue Squad to the Medical Center at Princeton, where he was pronounced dead at 5:36 a.m. Tuesday, said Capt. Michaud.
Within "a matter of minutes" the fire was under control although "extensive damage" was done to the inside of the apartment, said police.
Princeton Fire Chief Peter Hodge said Wednesday that fire officials suspect the blaze was caused by a lamp which fell from a telephorte'book onto bedding and ignited.
Whether Mr. Goreleigh fell asleep or knocked over the lamp while awake, fire officials do not know, said Chief Hodge. But when the lamp fell on the bed, the heat of the bulb ignited the bedding, he said.
The fire chief said the apartment, which contained some of the artist's paintings. was "nut gutted, but merely superficial scalding damage."
In the intense heat of the blaze. 'framed pictures came off the walls and were destroyed, said Chief Hodge Monetary value of the loss is unknown. he added.
Although the fire was controlled in about five minutes, fire officials suspect Mr. Goreleigh inhaled enough smoke to have been overcome by the time he was found.
It was the first fire fatality in Princeton this year.
An autopsy performed by the Mercer County medical examiner on Wednesday found death was caused by "smoke inhalation," said county Prosecutor Paul Koenig. Coronary problems were also involved, Mr. Koenig added.
Friends and fellow artists in the community expressed their shuck this week at the death of a man considered by many as the first recognized black artist in Princeton. A memorial service will be held,soon, but no date was set by Thursday.
"He made a huge contribution to art in Princeton," said Anne Reeves, of the Arts Council of Princeton. As an art teacher at the former Studio-on-the-Canal on Alexander Street, Mr. Goreleigh possessed "a wonderful flair" for describing how to create art, she said.
"He was very involved in his art," she said agreed Jocelyn Helm, director of the senior center, where Mr. Goreleigh lived for the past three years. She said "his face would light up" whenever he reminisced.
Visitors would come to his apartment but he rarely stepped outside, except perhaps to take out the trash, said Mrs. Helm. She said the residents there will miss him, especially some of the older women who had a "sort of possessive attitude about him — they wanted to take care of him."
But Princeton was not his first home. Married three times. Mr. Goreleigh was born in Penllyn, Pa. where he learned about art as the son of a doctor's housemaid As a youngster, he drew and painted everything he saw, he said dining a Packet interview in August, 1985.
Of his early years with Mc doctor's family. Mr. Goreleigh said, "We were all one family. The fact that I was black gave me no reason to think I should be painting blacks. I wasn't forming any opinion."
His thoughts and feelings blossomed in his paintings which were received by museums worldwide. including Paris and Helsinki, Finland.
Describing his bright watercolor "Corralling the Berries," the artist wrote that "Harvest is beautiful to watch, as the farmers flood the fields with the water pumps."
Involved in the Harlem Renaissance of the 1920s, the artist left New York to travel in Europe, where he studied for 10 years. A job with the Works Progress Administration (WPA) at Utopia House brought him back to Harlem in 1936. He later exhibited paintings at the Baltimore Art Museum and studied at the Art Institute in Chicago. He attended the University of Chicago. and later received a bachelor's degree with honors at Rutgers University.
Among his honors were citations from former Gov. Brendan Byrne and the New Jersey Council on the Arts. Mr. Goreleigh's vast knowledge of painting spurred Princeton citizens to seek his expertise in 1947 as an art instructor for the Princeton Arts Group. His enthusiasm for the arts would later result in the founding of the Princeton Art Association.
"I feel Princeton has lost a great man — great in many ways particularly as an artist." said Mary Ward. former executive director of the art association.
A man who veered from following art trends. Mr. Goreleigh will be remembered for "his dignity. and hi, integrity," said Ms. Ward.
Trenton art dealer Lawrence described the artist as "a soft-spoken quiet person — he never raised his voice.
"Rex was a very well-man gentlemanly type of man, a turally-refined person," said' Hilton, who purchased paintings Mr. Goreleigh for 18 years.
Hughie Lee-Smith, friends with Goreleigh for about 40 years, members art classes at the canal studio.
"He was an even-tempered rian with a great deal of dignity – nd self-control," said Mr.Lee-Smith,  who lives in East Windsor and to . at the Art Students League in Ito York. "I always considered him a sort of mentor of mine."
When Mr. Goreleigh paintings were exhibited by the TWEED Group in north Jersey in 1982, Lee-Smith wrote the introductory ay for the catalogue.
In summing up the exhibit he incite "The paintings in this exhibition reveal a unique vision of the world, through the keen eyes of a sophisticated artist of wide worldly experience. Some of the canvases and papers are light and full of gaiety, while others display a great social insight into the lives of or blacks and arc grave in their implications without being unbearably oppressive."