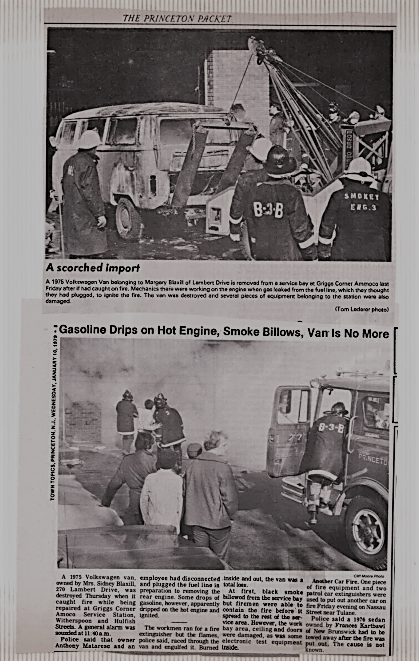 Princeton Packet
10 January 1979
(date estimated)
A scorched import
A 1975 Volkswagen Van belonging to Margery Blaxill of Lambert Drive is removed from a service bay at Griggs Corner Ammoco last Friday after if had caught on fire. Mechanics there were working on the engine when gas leaked from the fuel line, which they thought they had plugged, to ignite the Fire. The van was destroyed and several pieces of equipment belonging to the station were also damaged.
(Tom Lederer photo)
---
Town Topics
Gasoline Drips on Hot Engine, Smoke Billows, Van Is No More
A 1975 Volkswagen van, owned by Mrs. Sidney Blaxill, 270 Lambert Drive, was destroyed Thursday when it caught fire while being repaired at Griggs Corner Amoco Service Station, Witherspoon and Hulfish Streets. A general alarm was sounded at 11:40a.m.
Police said that owner Anthony Matarese and an employee had disconnected and plugged the fuel line in preparation to removing the rear engine. Some drops of gasoline, however, apparently dripped on the hot engine and ignited.
The workmen ran for a fire extinguisher but the flames, police said, raced through the van and engulfed it. Burned inside and out, the van was a total loss.
At first, black smoke billowed from the service bay but firemen were able to contain the fire before it spread to the rest of the service area. However, the work bay area, ceiling and doors were damaged, as was some electronic test equipment inside.
Another Car Fire. One piece of fire equipment and two patrol car extinguishers were used to put out another car on fire Friday evening on Nassau Street near Tulane.
Police said a 1976 sedan owned by Frances Kartbawi of New Brunswick had to be towed away after the fire was put out. The cause is not known.
(Cliff Moore photo)