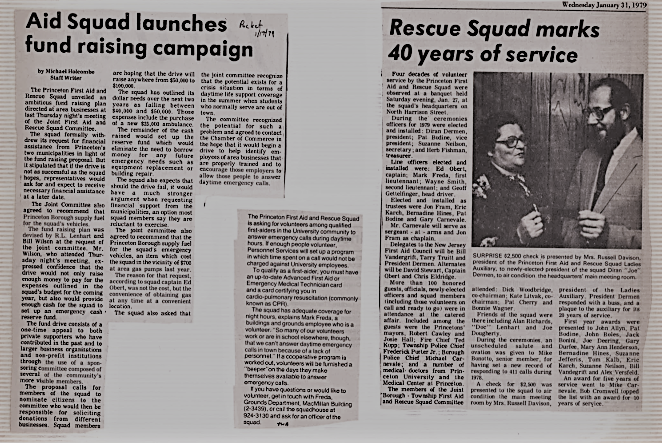 Princeton Packet
January 17, 1979
Aid Squad launches fund raising campaign
by Michael Holcombe
Staff Writer
The Princeton First Aid and Rescue Squad unveiled an ambitious fund raising plan directed at area businesses at last Thursday night's meeting of the Joint First Aid and Rescue Squad Committee.
The squad formally withdrew its request for financial assistance from Princeton's two municipalities in light of the fund raising proposal. But it stipulated that if the drive is not as successful as the squad hopes, representatives would ask for and expect to receive necessary financial assistance at a later date.
The Joint Committee also agreed to recommend that Princeton Borough supply fuel for the squad's vehicles.
The fund raising plan was devised by R.L. Lenhart and Bill Wilson at the request of the joint committee. Mr. Wilson, who attended Thursday night's meeting, expressed confidence that the drive would not only raise enough money to pay for the expenses outlined in the squad's budget for the coming year, but also would provide enough cash for the squad to set up an emergency cash reserve fund.
The fund drive consists of a one-time appeal to both private supporters who have contributed in the past and to larger business organizations and non-profit institutions through the use of a sponsoring committee composed of several of the community's more visible members.
The proposal calls for members of the squad to nominate citizens to the committee who would then be responsible for soliciting donations from different businesses. Squad members are hoping that the drive will raise anywhere from $50,000 to $100,000.
The squad has outlined its dollar needs over the next two years as falling between $40,000 and $50,000. Those expenses include the purchase of a new $25,000 ambulance.
The remainder of the cash raised would set up the reserve fund which would eliminate the need to borrow money for any future emergency needs such as equipment replacement or building repair.
The squad also expects that should the drive fail, it would have a much stronger argument when requesting financial support from the municipalities, an option most squad members say they are reluctant to exercise.
The joint committee also agreed to recommend that the Princeton Borough supply fuel for the squad's emergency vehicles, an item which cost the squad in the vicinity of $700 at area gas pumps last year.
The reason for that request, according to squad captain Ed Obert, was not the cost, but the convenience of obtaining gas at any time at a convenient location.
The squad also asked that the joint committee recognize that the potential exists for a crisis situation in terms of daytime life support coverage in the summer when students who normally serve are out of town.
The committee recognized the potential for such a problem and agreed to contact the Chamber of Commerce in the hope that it would begin a drive to help identify employees of area businesses that are properly trained and to encourage those employers to allow those people to answer daytime emergency calls.
---
Wednesday January 31, 1979
Rescue Squad marks 40 years of service
Four decades of volunteer service by the Princeton First Aid and Rescue Squad were observed at a banquet held Saturday evening, Jan. 27, at the squad's headquarters on North Harrison Street.
During the ceremonies officers for 1979 were elected and installed: Diran Dermen, president; Pat Budine, vice president; Suzanne Neilson, secretary;and Herb Fishman, treasurer.
Line officers elected and installed were: Ed Obert, captain; Mark Freda, first lieutenant; Wayne Smith, second lieutenant; and Geoff Geltelfinger, head driver.
Elected and installed as trustees were Jon Fram, Eric Karch, Bernadine Hines, Pat Bodine and Gary Carnevale.
Mr. Carnevale will serve as sergeant – at – arms and Jon Fram as chaplain.
Delegates to the New Jersey First Aid Council will be Bill Vandergrift, Tarry Truitt and President Dermen. Alternates will be David Stewart, Captain Qbert and Chris Eldridge.
More than 100 honored guests, officials, newly-elected officers and squad members (including those volunteers on call and ready to go) were in attendance at the catered affair. Included among the guests were the Princetons' mayors, Robert Cawley and Josie Hall; Fire Chief Ted Kopp; Township Police Chief Frederick Porter Jr.; Borough Police Chief Michael Carnevale; and a number of medical doctors from Princeton University and the Medical Center at Princeton.
The members of the Joint Borough – Township First Aid and Rescue Squad Committee attended: Dick Woodbridge, co-chairman; Kale Lilvak, co- chairman, Pal Cherry and Bonnie Wagner.
Friends of the squad were there including Alan Richards, "Doc" Lenhart and Joe Dougherly.
During the ceremonies, an unscheduled salute and ovation was given to Mike Bonotto, senior member, for having set a new record of responding lo 411 calls during 1978.
A check for $2,500 was presented lo the squad to air condition the main meeting room by Mrs. Russell Davison, president of the Ladies Auxiliary. President Dermen responded with a buss, and a plaque to the auxiliary for its 20 years of service.
First year awards were presented lo John Allyn, Pal Bodine. John Boles, Jack Bonini, Joe Peering, Gary Durfee, Mary Ann Henderson, Bernadine Hines, Suzanne Jefferis, Tom Kalb, Eric Karch, Suzanne Neilson, Bill Vandegrifl and Alex Versfeld.
An award for five years of service went lo Mike Carnevale. Bob Cromwell topped the list with an award for 10 years of service.
Photo Caption
SURPRISE $2,500 check is presented by Mrs. Russell Davison, president of the Princeton First Aid and Rescue Squad Ladies Auxiliary, to newly-elected president of the squad Diran "Joe" Dermen. to air condition the headquarters' main meeting room.
---
The Princeton First Aid and Rescue Squad is asking for volunteers among qualified first-aiders in the University community to answer emergency calls during daytime hours. If enough people volunteer, Personnel Services will set up a program in which time spent on a call would not be charged against University employees.
To qualify as a first-aider, you must have an up-to-date Advanced First Aid or Emergency Medical Technician card and a card certifying you in cardio-pulmonary resuscitation (commonly known as CPR).
The squad has adequate coverage for night hours, explains Mark Freda, a buildings and grounds employee who is a volunteer. "So many of our volunteers work or are in school elsewhere, though, that we can't answer daytime emergency calls in town because of a lack of personnel." If a cooperative program is worked out, volunteers will be furnished a "beeper "on the days they make themselves available to answer emergency calls.
If you have questions or would like to volunteer, get in touch with Freda,
Grounds Department, MacMillan Building (2-3439), or call the squadhouse at 924-3130 and ask for an officer of the squad.