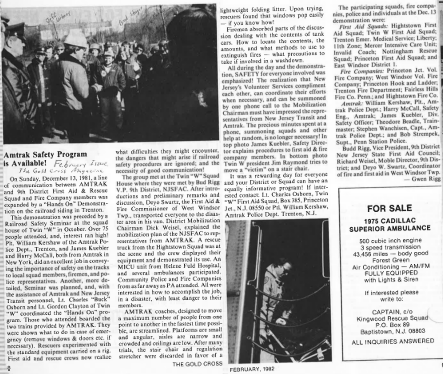 The Gold Cross Magazine
February 1982
Amtrak Safety Program is Available!
On Sunday, December 13, 1981, a line of communication between AMTRAK and 9th District First Aid & Rescue Squad and Fire Company members was expanded by a "Hands On" Demonstration on the railroad siding in Trenton.
This demonstration was preceded by a Railroad Safety Seminar at the squad house of Twin "W" in October. Over 75 people attended, and, interest ran high! Ptl. William Kershaw of the Amtrak Police Dept., Trenton, and James Kueblcr and Harry McCall, both from Amtrak in New York, did an excellent job in conveying the importance of safety on the tracks to local squad members, firemen, and police representatives. Another, more detailed, Seminar was planned, and, with the assistance of Amtrak and New Jersey Transit personnel. Lt. Charles "Buck" Osborn and Lt. Gordon Clayton of Twin "W" coordinated the "Hands On" program. Those who attended boarded the two trains provided by AMTRAK. They were shown what to do in case of emergency (remove windows & doors etc. if necessary). Rescuers experimented with the standard equipment carried on a rig. First aid and rescue crews now realize what difficulties they might encounter, the dangers that might arise if railroad safety procedures are ignored; and the necessity of good communication!
The group met at the Twin "W" Squad House where they were met by Bud Rigg VP 9th District, NJSPAC. After introductions and preliminary remarks and discussion, Deyo Swartz, the First Aid & Fire Commissioner of West Windsor Twp., transported everyone to the disaster area in his van. District Mobilization Chairman Dick Weisel, explained the mobilization plan of the NJSFAC to representatives from AMTRAK. A rescue truck from the Hightstown Squad was at the scene and the crew displayed their equipment and demonstrated its use. An MICU unit from Helene Fuld Hospital, and several ambulances participated. Community Police and Fire Companies from as far away as PA attended. All were interested in how to accomplish the job, in a disaster, with least danger to their members.
AMTRAK coaches, designed to move a maximum number of people from one point to another in the fastest time possible. arc streamlined. Platforms are small and angular, aisles arc narrow and crowded and ceilings arc low. After many trials, the stair chair and regulation stretcher were discarded in favor of a lightweight folding litter. Upon trying, rescuers found that windows pop easily — if you know how!
Firemen absorbed parts of the discussion dealing with the contents of tank cars. How to locate the contents, the amounts, and what methods to use to extinguish fires what precautions to take if involved in a washdown.
All during the day and the demonstration. SAFETY for everyone involved was emphasized! The realization that New Jersey's Volunteer Services compliment each other, can coordinate their efforts when necessary, and can be summoned by one phone call to the Mobilization Chairman must have impressed the representatives from New Jersey Transit and Amtrak. The precious minutes spent at a phone, summoning squads and other help at random, is no longer necessary! In top photo James Kuebler. Safety Director explains procedures to first aid & fire company members. In bottom photo Twin W president Jim Raymond tries to move a "victim" on a stair chair.
It was a rewarding day for everyone and your District or Squad can have an equally informative program! If interested contact. I.t. Charles Osborn, Twin "W" First Aid Squad. Box 385. Princeton Jet.. N.J. 08550 or Ptl. William Kershaw. Amtrak Police Dept. Trenton. N.J.
The participating squads, lire companies, police and individuals at the Dee. 13 demonstration were:
First Aid Squads: Hightstown First Aid Squad: Twin W First Aid Squad: Trenton Emer. Medical Service; Liberty; 11th Zone; Mercer Intensive Care Unit; Invalid Coach; Nottingham Rescue Squad; Princeton First Aid Squad; and East Windsor District I.
Fire Companies: Princeton Jet. Vol. Fire Company; West Windsor Vol. Fire Company; Princeton Hook and I.adder; Trenton l ire Department; Fairless Hills Fire Co. Penn.; and Hightstown Fire Co.
Amtrak: William Kershaw. Pit., Amtrak Police Dept.; Harry McCall. Safety Eng.. Amtrak; James Kuebler, Div. Safety Officer; Theodore Beadle. Trainmaster; Stephen Wanchisen, Capt.. Amtrak Police Dept.; and Bob Strempek, Supt., Penn Station Police.
Budd Rigg, Vice President. 9th District New Jersey State First Aid Council; Richard Weisel, Mobile Director. 9th District; and Deyo W. Swartz. Coordinator of fire and first aid in West Windsor Twp.
— Gwen Rigg