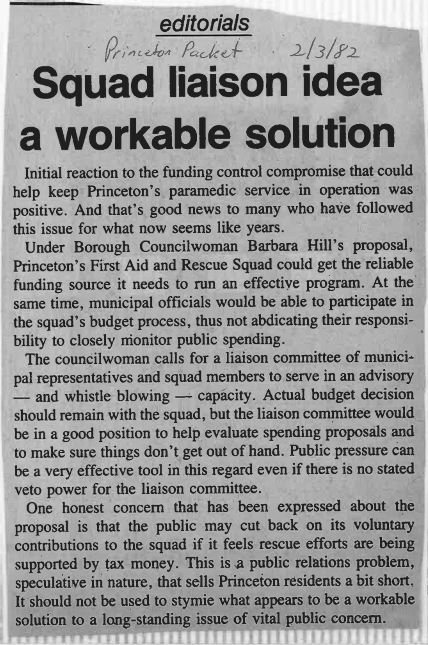 Princeton Packet
3 February 1982
editorials
Squad liaison idea a workable solution
Initial reaction to the funding control compromise that could help keep Princeton's paramedic service in operation was positive. And that's good news to many who have followed this issue for what now seems like years.
Under Borough Councilwoman Barbara Hill's proposal, Princeton's First Aid and Rescue Squad could get the reliable funding source it needs to run an effective program. At the same time, municipal officials would be able to participate in the squad's budget process, thus not abdicating their responsibility to closely monitor public spending.
The councilwoman calls for a liaison committee of municipal representatives and squad members to serve in an advisory — and whistle blowing — capacity. Actual budget decision should remain with the squad, but the liaison committee would be in a good position to help evaluate spending proposals and to make sure things don't get out of hand. Public pressure can be a very effective tool in this regard even if there is no stated veto power for the liaison committee.
One honest concern that has been expressed about the proposal is that the public may cut back on its voluntary contributions to the squad if it feels rescue efforts are being supported by tax money. This is a public relations problem, speculative in nature, that sells Princeton residents a bit short. It should not be used to stymie what appears to be a workable solution to a long-standing issue of vital public concern.