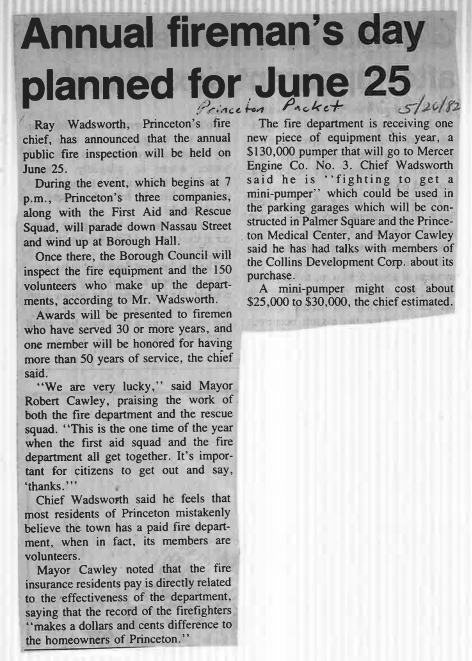 Princeton Packet
26 May 1982
Annual fireman's day planned for June 25
Ray Wadsworth, Princeton's fire chief, has announced that the annual public fire inspection will be held on June 25.
During the event, which begins at 7 p.m., Princeton's three companies, along with the First Aid and Rescue Squad, will parade down Nassau Street and wind up at Borough Hall.
Once there, the Borough Council will inspect the fire equipment and the 150 volunteers who make up the departments. according to Mr. Wadsworth.
Awards will be presented to firemen who have served 30 or more years, and one member will be honored for having more than 50 years of service, the chief said.
"We are very lucky," said Mayor Robert Cawley, praising the work of both the fire department and the rescue squad. "This is the one time of the year when the first aid squad and the fire department all get together. It's important for citizens to get out and say, 'thanks.' "
Chief Wadsworth said he feels that most residents of Princeton mistakenly believe the town has a paid fire department, when in fact, its members are volunteers.
Mayor Cawley noted that the fire insurance residents pay is directly related to the effectiveness of the department, saying that the record of the firefighters "makes a dollars and cents difference to the homeowners of Princeton."
The fire department is receiving one new piece of equipment this year, a $130,000 pumper that will go to Mercer Engine Co. No. 3. Chief Wadsworth said he is "fighting to get a mini-pumper" which could be used in the parking garages which will be constructed in Palmer Square and the Princeton Medical Center, and Mayor Cawley said he has had talks with members of the Collins Development Corp. about its purchase.
A mini-pumper might cost about $25,000 to $30,000, the chief estimated.