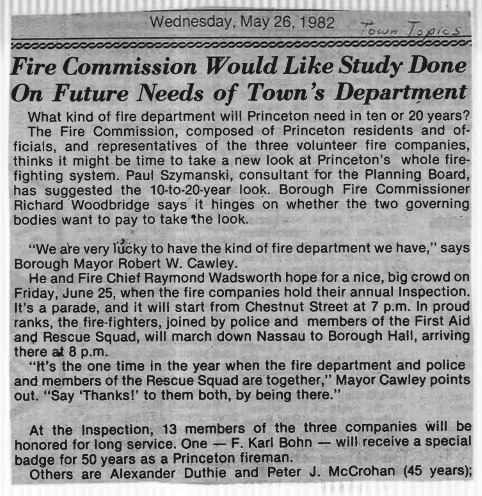 Town Topics
26 May 1982
Fire Commission Would Like Study Done On Future Needs of Town's Department
What kind of fire department will Princeton need in ten or 20 years?
The Fire Commission, composed of Princeton residents and officials, and representatives of the three volunteer fire companies, thinks it might be time to take a new look at Princeton's whole firefighting system. Paul Szymanski, consultant for the Planning Board, has suggested the 10-to-20-year look. Borough Fire Commissioner Richard Woodbridge says it hinges on whether the two governing bodies want to pay to take the look.
"We are very lucky to have the kind of fire department we have," says Borough Mayor Robert W. Cawley.
He and Fire Chief Raymond Wadsworth hope for a nice, big crowd on Friday, June 25, when the fire companies hold their annual Inspection. It's a parade, and It will start from Chestnut Street at 7 p.m. In proud ranks, the fire fighters, joined by police and members of the First Aid and Rescue Squad, will march down Nassau to Borough Hall, arriving there at 8 p.m.
"It's the one time in the year when the fire department and police and members of the Rescue Squad are together," Mayor Cawley points out. "Say Thanks!' to them both, by being there."
At the Inspection, 13 members of the three companies will be honored for long service. One — F. Karl Bohn — will receive a special badge for 50 years as a Princeton fireman.
Others are Alexander Duthie and Peter J. McCrohan (45 years);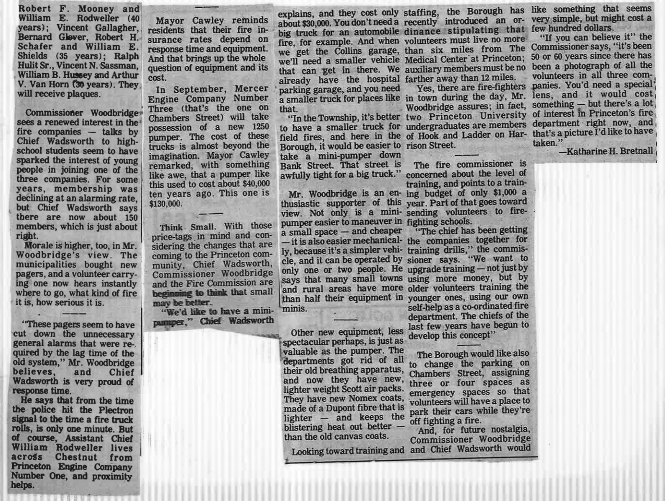 Robert F. Mooney and William E. Rodweller (40 years); Vincent Gallagher, Bernard Glover, Robert H. Schafer and William E. Shields (35 years); Ralph Hulit Sr., Vincent N. Sassman, William B. Hussey and Arthur V. Van Horn (30 years). They will receive plaques.
Commissioner Woodbridge sees a renewed interest in the fire companies — talks by Chief Wadsworth to high school students seem to have sparked the interest of young people in joining one of the three companies. For some years, membership was declining at an alarming rate, but Chief Wadsworth says there are now about 150 members, which is just about right.
Morale is higher, too, in Mr. Woodbridge's view. The municipalities bought new pagers, and a volunteer carrying one now hears instantly where to go, what kind of fire it is, how serious it is.
"These pagers seem to have cut down the unnecessary general alarms that were required by the lag time of the old system," Mr. Wood bridge believes, and Chief Wadsworth is very proud of response time.
He says that from the time the police hit the Plectron signal to the time a fire truck rolls, is only one minute. But of course, Assistant Chief William Rodweller lives across Chestnut from Princeton Engine Company Number One, and proximity helps.
Mayor Cawley reminds residents that their fire insurance rates depend on response time and equipment. And that brings up the whole question of equipment and its cost.
In September, Mercer Engine Company Number Three (that's the one on Chambers Street) will take possession of a new 1250 pumper. The cost of these trucks is almost beyond the imagination. Mayor Cawley remarked, with something like awe, that a pumper like this used to cost about $40,000 ten years ago. This one is $130,000.
Think Small. With those price-tags in mind and considering the changes that are coming to the Princeton community, Chief Wadsworth. Commissioner Woodbridge and the Fire Commission are beginning to think that small may be better.
"We'd like to have a mini- pumper," Chief Wadsworth explains, and they cost only about $30,000. You don't need a big truck for an automobile fire, for example. And when we get the Collins garage, we'll need a smaller vehicle that can gett in there. We already have the hospital parking garage, and you need a smaller truck for places like that.
"In the Township, it's better to have a smaller truck for field fires, and here in the Borough, it would be easier to take a mini-pumper down Bank Street. That street is awfully tight for a big truck."
Mr. Woodbridge is an enthusiastic supporter of this view. Not only is a mini- pumper easier to maneuver in a small space — and cheaper — it is also easier mechanically, because it's a simpler vehicle, and it can be operated by only one or two people. He says that many small towns and rural areas have more than half their equipment in minis.
Other new equipment, less spectacular perhaps, is just as valuable as the pumper. The departments got rid of all their old breathing apparatus, and now they have new, lighter weight Scott air packs. They have new Nomex coats, made of a Dupont fiber that is lighter — and keeps the blistering heat out better — than the old canvas coats.
Looking toward training and staffing, the Borough has recently introduced an ordinance stipulating that volunteers must live no more than six miles from The Medical Center at Princeton; auxiliary members must be no farther away than 12 miles.
Yes, there are fire-fighters in town during the day. Mr. Woodbridge assures; in fact, two Princeton University undergraduates are members of Hook and Ladder on Harrison Street.
The fire commissioner is concerned about the level of training, and points to a training budget of only $1,000 a year. Part of that goes toward sending volunteers to firefighting schools.
"The chief has been getting the companies together for training drills," the commissioner says. "We want to upgrade training — not just by using more money, but by older volunteers training the younger ones, using our own self-help as a coordinated fire department. The chiefs of the last few years have begun to develop this concept"
The Borough would like also to change the parking on Chambers Street, assigning three or four spaces as emergency spaces so that volunteers will have a place to park their cars while they're off fighting a fire.
And, for future nostalgia, Commissioner Woodbridge and Chief Wadsworth would like something that seems very simple, but might cost a few hundred dollars.
"If you can believe it" the Commissioner says, "it's been 50 or 60 years since there has been a photograph of all the volunteers in all three companies. You'd need a special lens, and it would cost, something — but there's a lot, of interest In Princeton's fire, department right now, and, that's a picture I'd like to have, taken."
—Katharine H. Bretnall