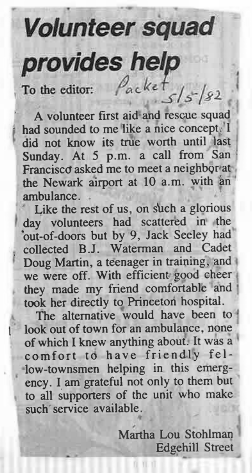 Princeton Packet
5 May 1982
Volunteer squad provides help
To the editor:
A volunteer first aid and rescue squad had sounded to me like a nice concept. I did not know its true worth until last Sunday. At 5 p.m. a call from San Francisco asked me to meet a neighbor at the Newark airport at 10 a.m. with an ambulance.
Like the rest of us, on such a glorious day volunteers had scattered in the out-of-doors but by 9, Jack Seeley had collected B.J. Waterman and Cadet Doug Martin, a teenager in training, and we were off. With efficient good cheer they made my friend comfortable and took her directly to Princeton hospital.
The alternative would have been to look out of town for an ambulance, none of which I knew anything about. It was a comfort to have friendly fellow-townsmen helping in this emergency. I am grateful not only to them but to all supporters of the unit who make such service available.
Martha Lou Stohlman
Edgehill Street