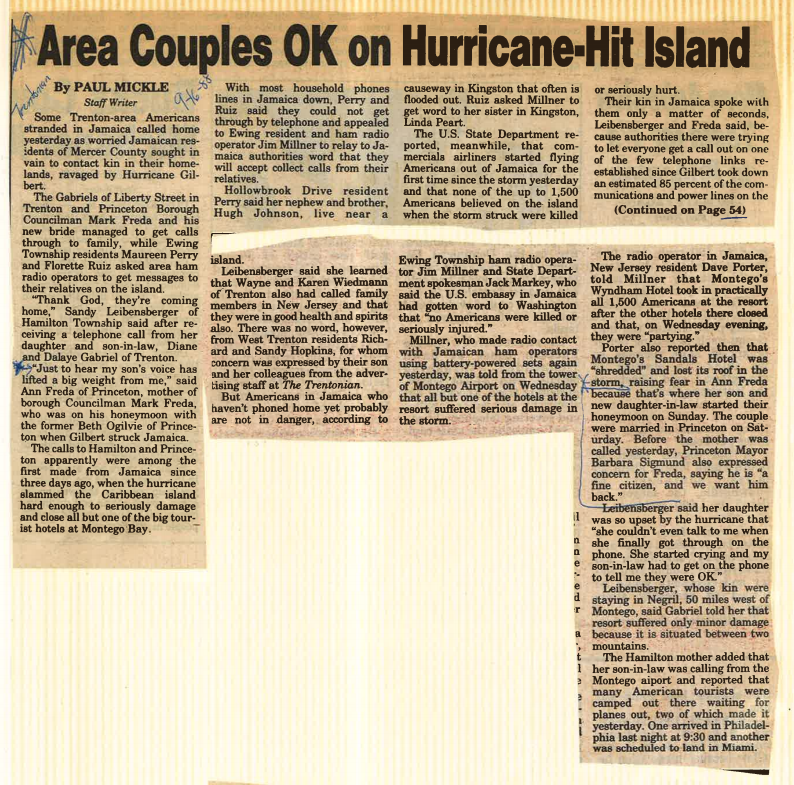 Trentonian
16 September, 1988
Area Couples OK on Hurricane-Hit Island
By Paul Mickle
Staff Writer
Some Trenton-area Americans stranded in Jamaica called home yesterday as worried Jamaican residents of Mercer County sought in vain to contact kin in their home-lands, ravaged by Hurricane Gilbert.
The Gabriels of Liberty Street in Trenton and Princeton Borough Councilman Mark Freda and his new bride managed to get calls through to family, while Ewing Township residents Maureen Perry and Florette Ruiz asked area ham radio operators to get messages to their relatives on the island.
"Thank God, they're coming home," Sandy Leibensberger of Hamilton Township said after receiving a telephone call from her daughter and son-in-law, Diane and Dalaye Gabriel of Trenton.
"Just to hear my son's voice has lifted a big weight from me," said Ann Freda of Princeton, mother of borough Councilman Mark Freda, who was on his honeymoon with the former Beth Ogilvie of Prince-ton when Gilbert struck Jamaica.
The calls to Hamilton and Prince-ton apparently were among the first made from Jamaica since three days ago, when the hurricane slammed the Caribbean island hard enough to seriously damage and close all but one of the big tourist hotels at Montego Bay.
With most household phones lines in Jamaica down, Perry and Ruiz said they could not get through by telephone and appealed to Ewing resident and ham radio operator Jim Millner to relay to Jamaica authorities word that they will accept collect calls from their relatives.
Hollowbrook Drive resident Perry said her nephew and brother, Hugh Johnson, live near a causeway in Kingston that often is flooded out. Ruiz asked Millner to get word to her sister in Kingston, Linda Peart.
The U.S. State Department re-ported, meanwhile, that commercial airlines started flying Americans out of Jamaica for the first time since the storm yesterday and that none of the up to 1,500 Americans believed on the island when the storm struck were killed or seriously hurt.
Their kin in Jamaica spoke with them only a matter of seconds, Leibensberger and Freda said, be-cause authorities there were trying to let everyone get a call out on one of the few telephone links re-established since Gilbert took down an estimated 85 percent of the communications and power lines on the island.
Leibensberger said she learned that Wayne and Karen Wiedmann of Trenton also had called family members in New Jersey and that they were in good health and spirits also. There was no word, however, from West Trenton residents Richard and Sandy Hopkins, for whom concern was expressed by their son and her colleagues from the advertising staff at The Trentonian.
But Americans in Jamaica who haven't phoned home yet probably are not in danger, according to Ewing Township ham radio operator Jim Milner and State Department spokesman Jack Markey, who said the U.S. embassy in Jamaica had gotten word to Washington that "no Americans were killed or seriously injured."
Millner, who made radio contact with Jamaican ham operators using battery-powered sets again yesterday, was told from the tower of Montego Airport on Wednesday that all but one of the hotels at the resort suffered serious damage in the storm.
The radio operator in Jamaica, New Jersey resident Dave Porter, told Millner that Montego's Wyndham Hotel took in practically all 1,500 Americans at the resort after the other hotels there closed and that, on Wednesday evening, they were "partying."
Porter also reported then that Montego's Sandals Hotel was , "shredded" and lost its roof in the – storm, _raising fear in Ann Freda that's where her son and new daughter-in-law started their honeymoon on Sunday. The couple were married in Princeton on Saturday. Before the mother was called yesterday, Princeton Mayor Barbara Sigmund also expressed concern for Freda, saying he is "a fine citizen, and we want him back." Leibensberger said her daughter was so upset by the hurricane that "she couldn't even talk to me when she finally got through on the phone. She started crying and my son-in-law had to get on the phone to tell me they were OK"
Leibensberger, whose kin were staying in Negril, 50 miles west of Montego, said Gabriel told her that resort suffered only minor damage because it is situated between two mountains.
The Hamilton mother added that her son-in-law was calling from the Montego airport and reported that many American tourists were camped out there waiting for planes out, two of which made it yesterday. One arrived in Philadelphia last night at 9:30 and another was scheduled to land in Miami.