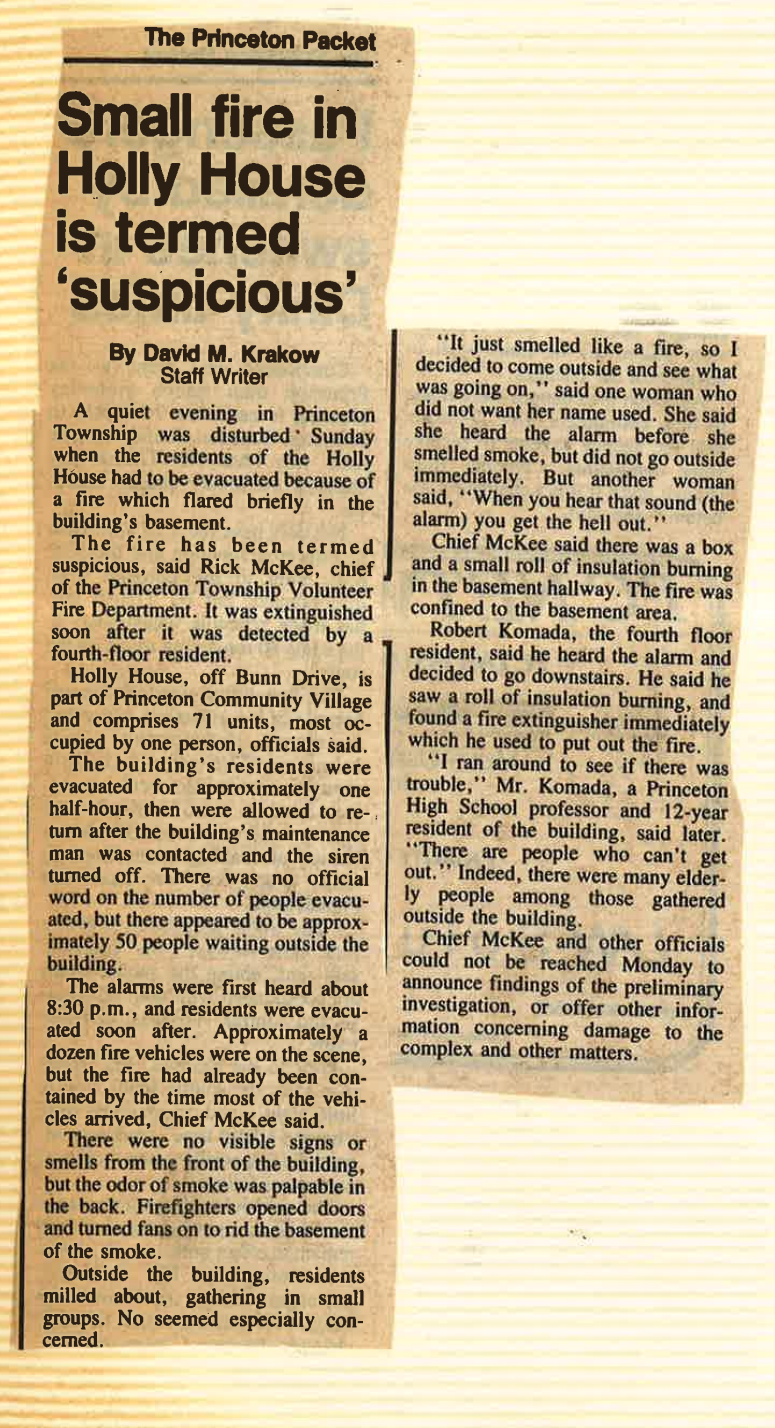 Princeton Packet
16 September, 1988
Small fire in Holly House is termed 'suspicious'
By David M. Krakow
Staff Writer
A quiet evening in Princeton Township was disturbed' Sunday when the residents of the Holly House had to be evacuated because of a fire which flared briefly in the building's basement.
The fire has been termed suspicious, said Rick McKee, chief , of the Princeton Township Volunteer Fire Department. It was extinguished soon after it was detected by a , fourth-floor resident.
Holly House, off Bunn Drive, is part of Princeton Community Village and comprises 71 units, most occupied by one person, officials said.
The building's residents were evacuated for approximately one half-hour, then were allowed to re-turn after the building's maintenance man was contacted and the siren turned off. There was no official word on the number of people evacuated, but them appeared to be approximately 50 people waiting outside the building.
The alarms were first heard about 8:30 p.m., and residents were evacuated soon after. Approximately a dozen fire vehicles were on the scene, but the fire had already been contained by the time most of the vehicles arrived, Chief McKee said.
There were no visible signs or smells from the front of the building, but the odor of smoke was palpable in the back. Firefighters opened doors and tamed fans on to rid the basement of the smoke.
Outside the building, residents milled about, gathering in small groups. No seemed especially concerned.
"It just smelled like a fire, so I decided to come outside and see what was going on," said one woman who did not want her name used. She said she heard the alarm before she smelled smoke, but did not go outside immediately. But another woman said, "When you hear that sound (the alarm) you get the hell out."
Chief McKee said there was a box and a small roll of insulation burning in the basement hallway. The fire was confined to the basement area.
Robert Komodo, the fourth floor resident, said he heard the alarm and decided to go downstairs. He said he saw a roll of insulation bunting, and found a fire extinguisher immediately which he used to put out the fire.
"I ran around to see if there was trouble," Mr. Komada, a Princeton High School professor and 12-year resident of the building, said later. "There are people who can't get out." Indeed, there were many elderly people among those gathered outside the building.
Chief McKee and other officials could not be reached Monday to announce findings of the preliminary investigation, or offer other information concerning damage to the complex and other matters.