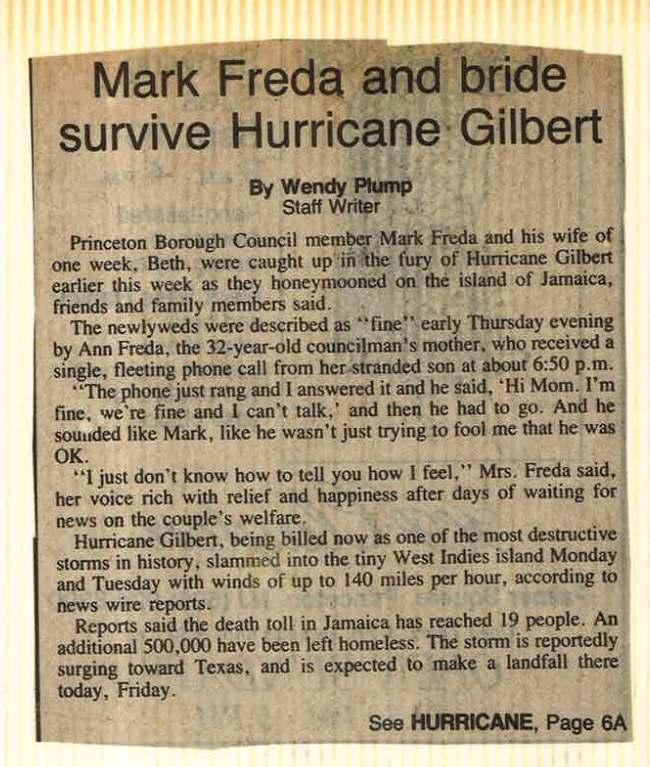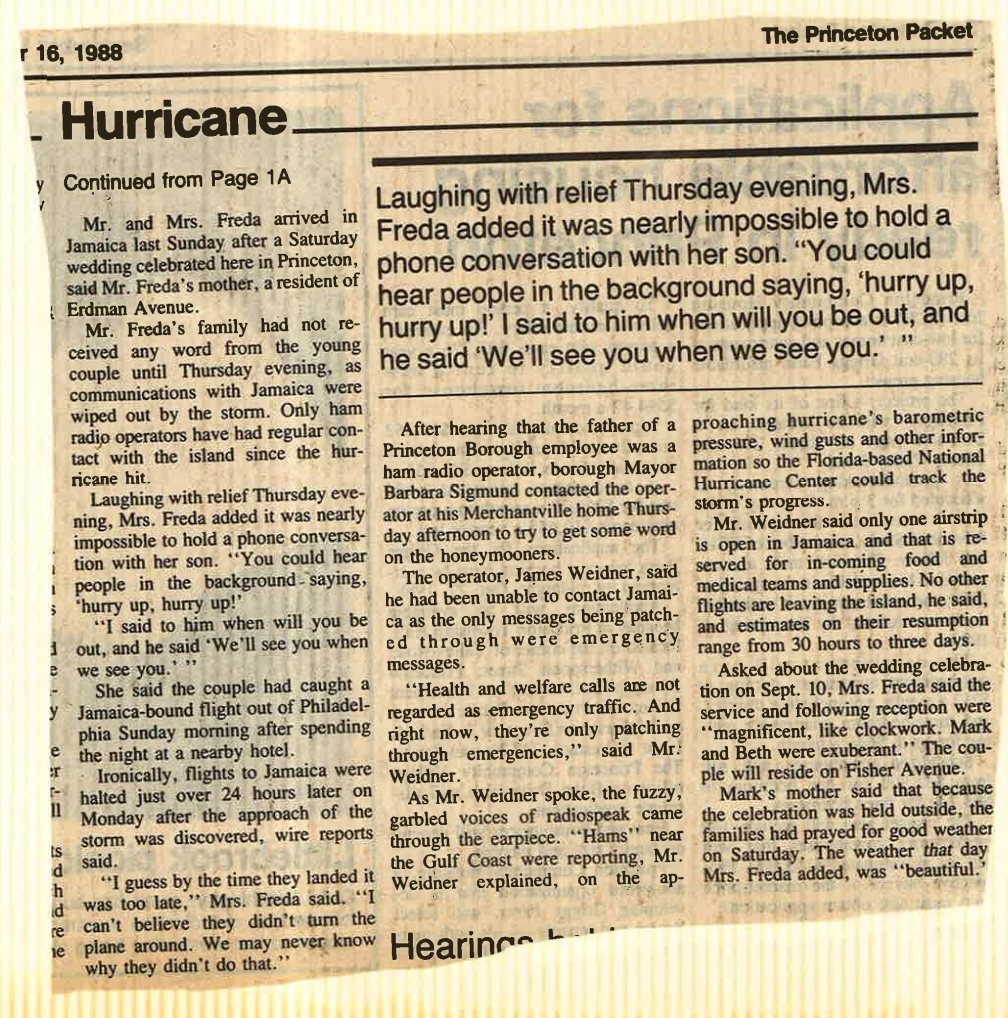 Princeton Packet
16 September, 1988
Mark Freda and bride survive Hurricane Gilbert
By Wendy Plump
Staff Writer
Princeton Borough Council member Mark Freda and his wife of one week. Beth, were caught up in the fury of Hurricane Gilbert earlier this week as they honeymooned on the island of Jamaica, friends and family members void.
The newlyweds were described as "fine" early Thursday evening by Ann Freda. the 32-year-old councilman's mother, who received a single, fleeting phone call from her-stranded son at about 6:50 p.m.
The phone just rang and I answered it and he said, 'Hi Mom. I'm fine. we're fine and I can't talk.' and then he had to go. And he sounded like Mark, like he wasn't just vying to fool me that he was OK.
"I just don't know how to tell you how I feel." Mrs. Freda said. her voice rich with relief and happiness after days of waiting for news on the couple's welfare.
Hurricane Gilbert, being billed now as one of the most destructive storms in history, slammed into the tiny West Indies island Monday and Tuesday with winds of up to 140 miles per hour, according to news wire reports.
Reports said the death toll in Jamaica has reached 19 people. An additional 500.000 have been left homeless. The storm is reportedly surging toward Texas. and is expected to make a landfall there today, Friday.
Mr. and Mrs. Freda arrived in Jamaica last Sunday after a Saturday wedding celebrated here in Princeton, said Mr. Freda's mother, a resident of Erdman Avenue.
Mr. Freda's family had not received any word from the young couple until Thursday evening, as communications with Jamaica were wiped out by the storm. Only ham radio operators have had regular contact with the island since the hurricane hit.
Laughing with relief Thursday evening, Mrs. Freda added it was nearly impossible to hold a phone conversation with her son. "You could hear people in the background – saying, 'huny up, hurry up!'
"I said to him when will you be out, and he said 'We'll see you when we see you."
She said the couple had caught a Jamaica-bound flight out of Philadelphia Sunday morning after spending the night at a nearby hotel.
Ironically, flights to Jamaica were halted just over 24 hours later on Monday after the approach of the storm was discovered, wire reports said.
"I guess by the time they landed it was too late," Mrs. Freda said. "I can't believe they didn't turn the plane around. We may never know why they didn't do that."
After hearing that the father of a Princeton Borough employee was a ham radio operator, borough Mayor Barbara Sigmund contacted the operator at his Merchantville home Thursday afternoon to try to get some word on the honeymooners.
The operator, James Weidner, said he had been unable to contact Jamaica as the only messages being patched through were emergency messages.
"Health and welfare calls are not regarded as emergency traffic. And right now, they're only patching through emergencies," said Mr: Weidner.
As Mr. Weidner spoke, the fuzzy, garbled voices of radiospeak came through the earpiece. —Hams" near the Gulf Coast were reporting, Mr. Weidner explained, on the approaching hurricane barometric pressure, wind gusts and other information so the Florida-based National Hurricane Center could track the storm's progress.
Mr. Weidner said only one airstrip is open in Jamaica and that is reserved for in-coming food and medical teams and supplies. No other flights are leaving the island, he said. and estimates on their resumption range from 30 hours to three days.
Asked about the wedding celebration on Sept. 10, Mrs. Freda said the service and following reception were "magnificent, like clockwork.
Mark and Beth were exuberant." The couple will reside on Fisher Avenue. Mark's mother said that because the celebration was held outside, the families had prayed for good weather on Saturday. The weather that day Mrs. Freda added, was "beautiful.'