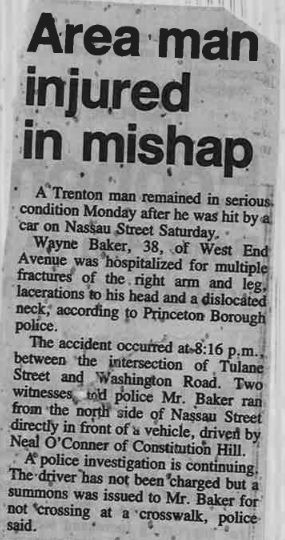 26 September, 1984 (date estimated)
Area man injured in mishap
A Trenton man remained in serious, condition Monday after he was hit by a car on Nassau Street Saturday.
Wayne Baker, 38, of West End Avenue was hospitalized for multiple fractures of the right arm and leg, lacerations to his head and a dislocated neck, according to Princeton Borough police.
The accident occurred at 8:16 p.m., between the intersection of Tulane Street and Washington Road. Two witnesses told police Mr. Baker ran from the north side of Nassau Street directly in front of a vehicle, driven by Neal O'Conner of Constitution Hill.
A police investigation is continuing. The driver has not been charged but a summons was issued to Mr. Baker for not crossing at a crosswalk, police said.